Luna Eriksson
Read all of Luna Eriksson's Reviews
Read all of Luna Eriksson's Features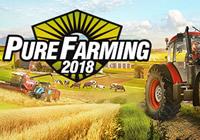 It's time to take a look upon the fields as Cubed3 tries to figure out the quality of the crops planted with Pure Farming 2018.

Read more 0 Comments
Delve into the universe of HOUND, create life, and come on a journey to when the world was new.

Read more 0 Comments
Cubed3 delves deep into the in-development underwater exploration game IronFish.

Read more 0 Comments
Read all of Luna Eriksson's Previews
Read all of Luna Eriksson's News