Dynasty Warriors Vs is a Brawler game developed by Omega Force for the Nintendo 3DS video game console. Get the latest news, reviews, videos and screenshots for Dynasty Warriors Vs.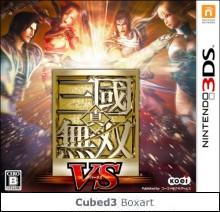 Developer
Omega Force
Publisher
Genre
Players
C3 Score

n/a
Reader Score

0 (0 Votes)
TBA TBA Out now TBA
The 3DS release of Dynasty Warriors Vs is on the brink of release in Japan and Tecmo Koei have crafted a new trailer.

Read more 3 Comments
Fancy getting your Nintendo garb on? Well two bonus costumes in Dynasty Warriors Vs will let fighters dress as Link or Samus.

Read more 5 Comments
As part of the 3DS line-up announced during Nintendo's conference earlier, the company revealed the first look at Dynasty Warriors Vs.

Read more 4 Comments