Myst is a Puzzle game developed by Hoplite Research for the Nintendo 3DS video game console. Get the latest news, reviews, videos and screenshots for Myst.
Developer
Hoplite Research
Publisher
Genre
Players
C3 Score

n/a
Reader Score

7/10 (1 Votes)
Out now Out now None Out now Also on
The 1993 classic is back and Cubed3 was given the chance to try out an early version of Myst for Nintendo 3DS. - By Adam Riley

Read more 3 Comments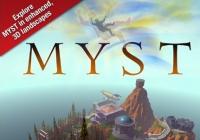 Myst is set to return, this time on Nintendo 3DS.

Read more 5 Comments