Ace Attorney 5 is an Adventure game developed by Capcom for the Nintendo 3DS video game console. Get the latest news, reviews, videos and screenshots for Ace Attorney 5.
Developer
Capcom
Publisher
Genre
Players
Online enabled
C3 Score

n/a
Reader Score

0 (0 Votes)
TBA TBA Out now TBA
Everyone's favourite attorney Phoenix Wright is heading to the West as a digital-only release, Capcom confirms.

Read more 5 Comments
The latest glimpse of footage from the next Ace Attorney game explores the new mechanics available to clue sleuths in Ace Attorney 5.

Read more 1 Comment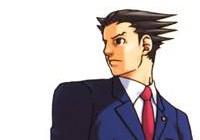 Capcom have posted an explosive new trailer for the much anticipated fifth chapter in the popular Ace Attorney series.

Read more 6 Comments
The next case in the Phoenix Wright story is set to unravel this July as Capcom has set a date for Ace Attorney 5.

Read more 0 Comments
The official website for Ace Attorney 5 has been updated with new details on partner character Kizuki Kokone and clue hunting.

Read more 1 Comment