Dragon Quest X: Mezameshi Itsutsu no Shuzoku Online is a Real Time RPG game developed by Square Enix for the Wii U video game console. Get the latest news, reviews, videos and screenshots for Dragon Quest X: Mezameshi Itsutsu no Shuzoku Online.
Developer
Square Enix
Publisher
Genre
Players
Online enabled
C3 Score

n/a
Reader Score

10/10 (1 Votes)
TBA TBA 2012 TBA
Japanese convenience stores Lawson have received a Dragon Quest make-over in association with Square Enix.


Read more 0 Comments
The mammoth online RPG from Square Enix, Dragon Quest X, may be receiving localisation treatment if a retailer listing is true.

Read more 3 Comments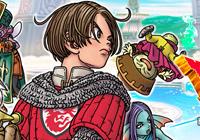 Dragon Quest X for Nintendo Wii U is on the brink of release in Japan, with a new trailer of the game in action.

Read more 1 Comment
Peripherals guru Hori are releasing a Dragon Quest themed slime keyboard complete with adorable figures.

Read more 2 Comments
The high-definition Wii U edition of Dragon Quest X is set to battle across Japan next year and Square Enix has an upgrade incentive.

Read more 4 Comments