Kingdom Hearts 3D: Dream Drop Distance is a Real Time RPG game developed by Square Enix for the Nintendo 3DS video game console. Get the latest news, reviews, videos and screenshots for Kingdom Hearts 3D: Dream Drop Distance.
Developer
Square Enix
Publisher
Genre
Players
C3 Score

9/10
Reader Score

9/10 (3 Votes)
Out now Out now Out now Out now Also on
Nintendo fans have been treated to many Kingdom Hearts spin-offs, but Square Enix just got serious with Kingdom Hearts 3D on 3DS! - By Adam Riley

Read more 22 Comments
Celebrating its tenth anniversary, Kingdom Hearts will soon drop onto Nintendo 3DS for the first time. - By Az Elias

Read more 5 Comments
Nintendo has signed up Square Enix's Kingdom Hearts 3D for Europe.

Read more 1 Comment
Kingdom Hearts: Dream Drop Distance is nearly here on 3DS.

Read more 3 Comments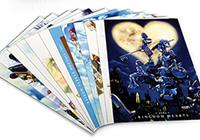 Square Enix has announced a special edition 3DS bundle for Kingdom Hearts fans for the upcoming Dream Drop Distance and 10th Anniversary.

Read more 7 Comments
Square Enix have released the debut trailer for the upcoming ​Kingdom ​Hearts ​installment for 3DS - Dream Drop Distance​.

Read more 6 Comments
Japanese folk are getting their mitts on the latest Kingdom Hearts installment, however there's a teeny bug that breaks the game.

Read more 3 Comments