Cooking Mama is a Simulation game developed by Taito for the Nintendo DS video game console. Get the latest news, reviews, videos and screenshots for Cooking Mama.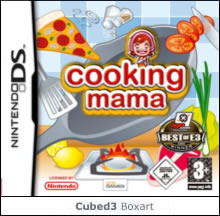 Developer
Taito
Publisher
Genre
Players
C3 Score

n/a
Reader Score

9/10 (13 Votes)
17.11.2006 Out now Out now TBA
Majesco has revealed impressive sales figures for Cooking Mama, selling over for million copies on DS and Wii.

Read more 2 Comments
505 Games today revealed that European sales of its celebrated Cooking Mama franchise have surpassed one million units in total. The game, first released on Nintendo DS and eventually Wii, has now become 505 Games

Read more 8 Comments