Meteos is a Puzzle game developed by QB for the Nintendo DS video game console. Get the latest news, reviews, videos and screenshots for Meteos.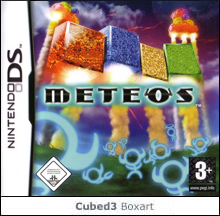 Developer
QB
Publisher
Genre
Players
C3 Score

9/10
Reader Score

7/10 (4 Votes)
Out now Out now Out now Out now
Prepare for take-off... - By Barry Lewis

Read more 8 Comments
Nintendo have released even more images for the upcoming DS puzzler, Meteos where puzzle control moving blocks and matching has never been so fluid and exciting. Read on fore more...

Read more 0 Comments
Before today we only had some vague concept art and magazine scans of this game, now we can bring you 23 proper screenshots taken directly from the game! Come inside for that and more...

Read more 0 Comments
We have 8 new screenshots for upcoming Nintendo DS title Meteos. The action/puzzle game sees you trying to protect aliens from falling meteors using the DS

Read more 0 Comments
Quick News: A video for Bandai's Metoes has just been released. The puzzler/action game sees players trying to save aliens from falling meteors and certain death. Thinking will be a certain requirement for this game... You can view the trailer here in either high or low bandwith. Please note that the page is Japanese. Stay with Cubed3 for more updates!

Read more 0 Comments