Disney Epic Mickey 2: The Power of Two is a 3D Platformer game developed by Blitz for the Wii U video game console. Get the latest news, reviews, videos and screenshots for Disney Epic Mickey 2: The Power of Two.
Developer
Blitz
Publisher
Genre
Players
C3 Score

n/a
Reader Score

9/10 (1 Votes)
Out now Out now Out now Out now Also on
Mickey Mouse maybe the star of all things Disney, but Warren Spector would like to create a games based on other characters.

Read more 4 Comments
The chap behind Disney's Epic Mickey series, Warren Spector has hinted at the possibility for a third installment.


Read more 2 Comments
New details for the Wii U-specific version have emerged, including a lack of Wii Remote/nunchuck for single players.

Read more 10 Comments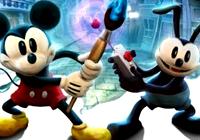 Platforming fans are in for a treat with confirmation that Epic Mickey 2 will launch alongside the Wii U in the UK.

Read more 0 Comments