Mega Man Legends 3 (Cancelled) is a 3D Platformer game developed by Capcom for the Nintendo 3DS video game console. Get the latest news, reviews, videos and screenshots for Mega Man Legends 3 (Cancelled).
Developer
Capcom
Publisher
Genre
Players
C3 Score

n/a
Reader Score

0 (0 Votes)
None None None None
A group of fans have updated an online game based on the cancelled Mega Man Legends 3 prototype.

Read more 0 Comments
Update: Keiji Inafune comments. Capcom have announced that 3DS' Mega Man Legends 3 has been cancelled.

Read more 13 Comments
Producer for the upcoming Mega Man Legends 3, Tatsuya Kitabayashi recently announced a delay for the Prototype demo edition.

Read more 3 Comments
Last week development videos from 3DS project Mega Man Legends 3 emerged online, revealing snippets of protagonist Barrett in action.

Read more 4 Comments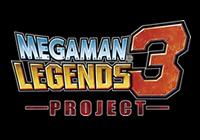 New details from the prototype, downloadable demo, version of Mega Man Legends 3 have trickled onto the internet.

Read more 2 Comments