Diddy Kong Racing is a Driving game developed by Rare for the Nintendo 64 video game console. Get the latest news, reviews, videos and screenshots for Diddy Kong Racing.
Developer
Rare
Publisher
Genre
Players
C3 Score

9/10
Reader Score

9/10 (13 Votes)
Out now Out now Out now Out now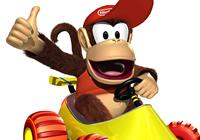 It's racing Jim, but not as we know it... - By James Temperton

Read more 2 Comments
Susan Gray recovers Retro Recap, Cubed3's personal outlook at some of the best classic Nintendo games. For volume two, one of Rareware's best, most loved racing games, even more so than Mickey's Speedway; Diddy Kong Racing. Read on for big pigs and banana antics...

Read more 0 Comments