Not a game that really needs an introduction nor a history lesson, Super Mario 64 is undoubtedly one of the best Videogames ever made. Releasing alongside the Nintendo 64 in 1996 and 1997, Mario 64 signaled the true beginning of 3-Dimensional Gameplay and perfected it in one swift swoop. It became the best-selling N64 game, shifting 11 million copies worldwide, and also successfully pushed the launch of Nintendo's DS through a DS Port. Mario 64 made it third-time lucky by headlining the Virtual Console selection at the Wii's launch as well.
Like many Mario games, the story for 64 is relatively simple; Mario is invited to the Princess' Castle for some Cake (Nintendo sneakily renamed Princess Toadstool as Peach from then on here), he finds the castle deserted when he gets there, and sets out to rescue everybody trapped in the walls. And that's all she wrote, and really all that's ever been needed.
Within the Castle, there are entrances to large, explorable worlds, cunningly hidden away in paintings. It is in these places that you'll acquire the means to progress through the game; by collecting Power Stars. By carrying out vaguely-hinted challenges, you can earn these Stars to open new doors in the castle, and progress further. From racing a Koopa Troopa, out-witting a Chain Chomp, collecting a number of Red Coins, flying through targets, blasting out of Cannons, and even scrapping with giant hands, Super Mario 64 offers a high number of enjoyable challenges to conquer, and over 100 Stars to collect.
Upon first picking up that controller to play Super Mario 64, you'll discover where every three-dimensional-movement game since 1996 got their inspiration from. Simply put; this game controls perfectly. From a slight twitch on the Analog Stick to a full-blown tap, a crouch or punch, a side-somersault to a triple-jump, Mario will follow your input without fault. Until Mario's Wii debut with Galaxy, this system had no true rival.
As well as mastering 3D movement, this game offered a highly competent rotational Camera system, that offered both a new perspective of the game's world through Mario's eyes, and fine-tuning for difficult jumps. Whichever controller you use to play Mario 64, be it buttons with an N64 pad, or a stick on a Gamecube Pad, it all works well.
In previous Mario games, health was determined by powerups, such as the Fire Flower, the cape, and the old favourite, the Mushroom. Not here though. Mario's health in 64 is measured by a power meter, that diminishes upon harmful contact with enemies, lava, or too long underwater, and can be replenished by collecting coins. Thanks to this system, trial and error in certain areas is less punishing, and more manageable.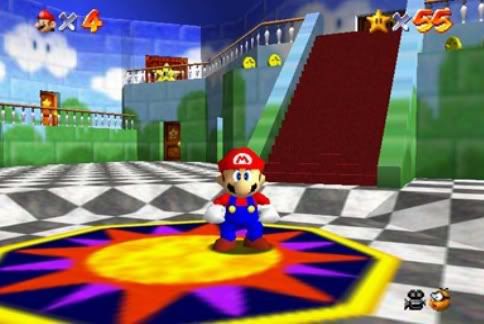 At the time of release, Mario 64 stunned everybody with it's visuals. No-one could quite believe how a 2D gaming icon could translate so well into the realms of 3D, but Nintendo nailed it. Pioneering the blocky-colourful look that so many Nintendo 64 games took after, Mario 64 brought the spirit and character of the original games and threw them straight into 15 worlds of imagination and fun. Time has dulled the blade, but Super Mario 64's visuals are no less impressive for it.
Along with allowing the character to upgrade from a straight plane, Nintendo decided to give their mascot a proper voice too. Many fans at the time were skeptical of this; they worried that giving the chubby plumber a voice would make him lose his charm. Charles Martinet however, was a perfect fit; from the moment you switch on the game to hear; 'It's a-me, Mario!', to the moment you finish; 'Thank you so much as-to playing my game!', his dulcet tones fits Mario's personality perfectly.
Music in general for Mario 64 is also excellent, full of memorable tunes that you'd be glad to hear again and again.
Although there is no multiplayer, Super Mario 64 will last a beginner quite a while, and even give seasoned pros a run for their money. With secret paths to find, animals to race, death-defying leaps of faith to conquer, and a as-pissed-off-as-ever Bowser to beat the snot out of, this is one purchase you won't regret. Only 1000 points on the Virtual Console, and it's worth every single one.