Mario Kart 64 is a Driving game developed by Nintendo for the Nintendo 64 video game console. The game has been re-released and can be downloaded on the Virtual Console service for Wii, in digital form. Get the latest news, reviews, videos and screenshots for Mario Kart 64.
Developer
Nintendo
Publisher
Genre
Players
C3 Score

9/10
Reader Score

9/10 (9 Votes)
Out now Out now Out now Out now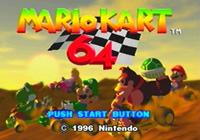 Karting heaven on the N64 - By Ross Morley

Read more 3 Comments
Rémi Gaillar, famous French prankster, has reenacted Toad's Turnpike level from Mario Kart 64.

Read more 22 Comments