Final Fantasy is a Turn Based RPG game developed by Square for the NES video game console. The game has been re-released and can be downloaded on the Virtual Console service for Wii, in digital form. Get the latest news, reviews, videos and screenshots for Final Fantasy.
Developer
Square
Publisher
Genre
Players
C3 Score

n/a
Reader Score

0 (0 Votes)
Out now Out now Out now Out now
Are your ears pricking up in anticipation for the which songs will be featured in the Final Fantasy 25th Anniversary album?

Read more 1 Comment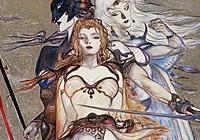 Square Enix are letting the music do the talking in a trailer for upcoming compilation Final Fantasy: Orchestra Album.

Read more 1 Comment
Just what inspired the man who created the now iconic Final Fantasy battle system? One of the ideas came from NFL football.


Read more 0 Comments