Nintendo Land is a Party game developed by Nintendo for the Wii U video game console. Get the latest news, reviews, videos and screenshots for Nintendo Land.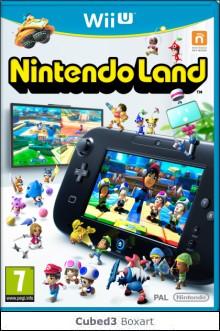 Developer
Nintendo
Publisher
Genre
Players
Online enabled
C3 Score

9/10
Reader Score

9/10 (4 Votes)
Out now Out now Out now Out now Also on
Cubed3 paid a lengthy visit to this special amusement park and is back to share its experience in this in-depth review. - By SirLink

Read more 2 Comments
Nintendo's second biggest Wii U reveal at E3 was Nintendo Land, and Cubed3 recently had extensive playtime with the new product. - By Adam Riley

Read more 8 Comments
Nintendo have put together a series of new Wii U adverts in the UK that focus on asymmetric gameplay with Nintendo Land.

Read more 2 Comments
Stars of the Disney Channel got together to compete in Nintendo Land in a new advert: It's a Wii U Showdown.

Read more 3 Comments
The final selection of mini-games for Nintendo Land have been revealed: including F-Zero and Yoshi.

Read more 6 Comments
Nintendo have lifted the lid on the first virtual theme park to roll out on Wii U, including Metroid and Pikmin attractions.

Read more 0 Comments
The latest issue of US monthly magazine GameInformer has revealed a handful of details on new NintendoLand events.

Read more 1 Comment
| Title | Date | |
| --- | --- | --- |