Inazuma Eleven Strikers is a Sport game developed by Level-5 for the Wii video game console. Get the latest news, reviews, videos and screenshots for Inazuma Eleven Strikers.
Developer
Level-5
Publisher
Genre
Players
Online enabled
C3 Score

5/10
Reader Score

6/10 (11 Votes)
Out now None Out now None
Although the Inazuma Eleven RPGs on Nintendo DS are very impressive, is the Wii football-only spin-off just as good? - By Adam Riley

Read more 2 Comments
Nintendo has confirmed that Inazuma Eleven Strikers on Wii is heading to Europe.

Read more 1 Comment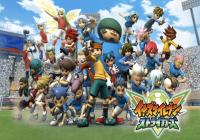 Level-5's Wii football title, Inazuma Eleven Strikers, could be heading to Europe soon.

Read more 2 Comments
Level-5 have tackled up new screens of the team's debut Wii appearance, the Inazuma Eleven console outing, Strikers.

Read more 2 Comments
Update: Debut lifestyle trailer. Popular Level-5 football rpg/simulation is coming to Wii, with a first look TGS.

Read more 4 Comments