The Last Story is a Real Time RPG game developed by Mistwalker for the Wii video game console. Get the latest news, reviews, videos and screenshots for The Last Story.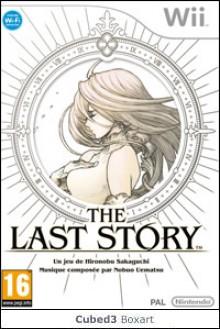 Developer
Mistwalker
Publisher
Genre
Players
Online enabled
C3 Score

9/10
Reader Score

9/10 (7 Votes)
Out now Out now Out now Out now
Can Hironobu Sakaguchi's The Last Story live up to the high expectations that Xenoblade Chronicles set on Nintendo Wii? - By Adam Riley

Read more 30 Comments
Following on from the success of Xenoblade in 2011, Nintendo of Europe is set to unleash Hironobu Sakaguchi-san's The Last Story on Wii in 2012. - By Az Elias

Read more 7 Comments
Mistwalker's popular Wii RPG The Last Story has been re-released in North America.

Read more 1 Comment
The lead designer behind well-received Wii RPG The Last Story recently praised the Wii U GamePad for JRPGs.

Read more 6 Comments
US folk eager for more Wii adventuring can start to save up those cents - The Last Story has a release date in North America.

Read more 4 Comments
Are you one of the eager RPG beavers awaiting your copy of The Last Story, or thinking of getting yours in GAME. Think again.

Read more 8 Comments
American Wii owners pining for a release of the critically acclaimed RPG The Last Story can rest easy. It's coming!

Read more 4 Comments