Nano Assault Neo is a Shooter game developed by Shin'en for the Wii U eShop video game console. Get the latest news, reviews, videos and screenshots for Nano Assault Neo.
Developer
Shin'en
Publisher
Genre
Players
C3 Score

7/10
Reader Score

9/10 (1 Votes)
Out now Out now TBA Out now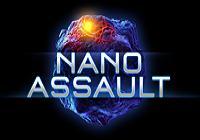 Ever wondered how epic it would be if you could swallow a spaceship so it could clean your cells of viruses and bacteria? This C3 review might yield the answer... - By Rudy Lavaux

Read more 4 Comments
Shien'en has confirmed that an update for Nano Assault Neo is now available to download that addresses several issues with the game.

Read more 5 Comments
Cubed3 spoke to Shin'en Multimedia on the sublime Nano Assault for the Nintendo Wii U eShop and future plans for the studio.

Read more 11 Comments
Shin'en has released two new trailers for the Wii U and 3DS eShop editions of the popular shooter Nano Assault.

Read more 5 Comments