There is nothing worse than wanting to listen to the fine music in your back catalogue of Nintendo DS games and being disappointed by how the full effect just cannot be garnered from merely relying on the system's stereo speakers. But what is the solution? Well, in most cases people will plump for a powerful pair of earphones, blasting the soundtrack right into their head, which is not always ideal, or pick up some cheap external docking station that horribly distorts the sound. Now, thankfully, there is another option on the table, one that could very well prove to be the perfect answer - the T3 Mobile Stereo Speaker from orbitsound.
Most of the external speaker solutions always seem to promise so much, yet inevitably prove to be disappointments either due to high battery consumption rates or heavy distortion on the actual sound output. But has orbitsound finally been able to offer something that can satisfy the masses? Upon opening up the packaging it may well seem like a firm no, as it is hard to imagine how such a diminutive device could be vastly powerful. The T3, though, is purposely miniature for maximum portability potential. In fact, with it measuring 102 x 60 x 20mm and weighing roughly 115g, the T3 is on par with the size of most mobile phones and probably slightly lighter. Yet do not let that fool you, as inside it is packing eight watts of audio power that pumps through its airSOUND loudspeaker with surprisingly great results.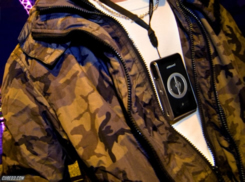 Rather than merely plump for pure sound quality, though, orbitsound was acutely aware that if the T3 did not look stylish enough, many would simply leave it at home. Therefore, having been styled by a leading UK design house, the company has ensured the T3 looks as cool as possible, with its sleek, curved shape, plus the black and silver colouring. It also comes with a lanyard attached to encourage consumers to wear it around their neck for the best aural experience, which certainly brings a whole new feel to the product and, as the company itself states, 'provides the wearer with a stereo aura around their head', which is definitely true. The sound literally envelops the user when the airSOUND spatial feature is turned to its maximum setting and when switching back to simple stereo the difference is stark to say the least. There are three settings to choose from in total: simple stereo, plus two levels of airSOUND. The first option works just like most ordinary speakers, so to get the most from the T3 it is definitely advised to use the fantastic airSOUND single-point-stereo technology found inside it in order to fully appreciate the majestic soundtracks found in many a DS game. Of course, it does not just have to be your DS the T3 is used with, since because of its standard 3.5mm stereo jack socket audio input it can work with PCs, TV sets, MP3 players, and so on and so forth. You also do not need to wear it round your neck, as when sat flat on a desktop the sound reverberates around the room just as well as when dangling under your chin. It really is that versatile!


One point mentioned earlier was about how the competition can eat through batteries at a rate of Knots. With the T3 obviously being battery powered this might cause concern for some. Yet worry not as there is no need to keep on changing batteries on a regular basis thanks to the T3's high tech in-built Lithium-Ion 1000mA-hour 3.7V battery, which fully charges in less than two hours and then keeps on trucking for easily over ten hours before needing to be plugged back in to either the mains, using the plug included in the package, or a standard USB cable hooked up to a PC. So you will hardly ever have to do without your sound bubble. With the T3 retailing at 49.99 GBP, some may still be thinking about why the T3 is better than an ordinary pair of earphones. Well, with headphones and earphones, all the user is receiving in their head is two separated mono signals, instead of the true stereo sound field acquired via external speakers that send out the sound from both, letting your ears hear the music the way it should be. With earphones people only hear the left speaker signal in their left ear and the right in the other ear, meaning that the sound ends up being heard in the middle or back of the head. The T3 offers the true experience of sound being in front and all around you, just where the soundstage should really be - the real spatial stereo soundfield.
Tech Up! Final Thoughts
The T3 Mobile Stereo Speaker offers as best a surround sound experience as can possibly be expected from a small, portable, external device and once used with the likes of your MP3 players, Nintendo DS or even laptops, going back to ordinary earphones just is not the same at all. It may come at quite a price, but after using just a few times it becomes increasingly apparent that going back to what you had before simply will no longer suffice. Highly reliable and extremely versatile - this could be the perfect Christmas present this year!