The first piece of art from Ubisoft's Red steel has emerged, revealing a wild-west chap with a sword and revolver.
A Nintendo Power teaser cover for the game expresses much hope for those wanting a smoother experience in the launch title, "Finally, wielding a sword in a Wii game feels as real as you'd always dreamed", donning this chap with a funky futuristic coat and two weapons. An old Western/sci-fi mix for the next game? The slogan seems to practically confirm support for MotionPlus, which itself is due to be bundled with Wii Sports Resort this July.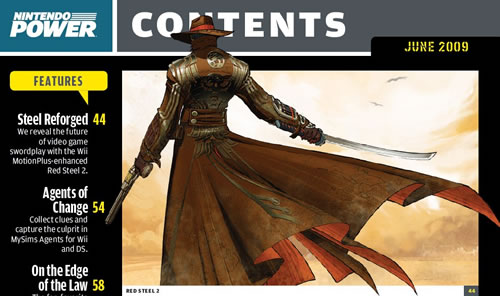 Thanks to GameSpot
Update: The game will be also be shown off in the UK Official Nintendo Magazine a few days earlier on May 8th 2009.
In the magazine we'll be revealing all about the stunning MotionPlus slash 'em up and you'll be able to check out the first screenshots and read an interview with creative director Jason Vandenberghe.
Thanks to ONM's Tom for the tip.
Update 2: Ubisoft have sent over a link to the Official Red Steel 2 website, a placeholder page for now.