High Voltage have revealed the second of their titles to be shown at this year's E3, a monster-filled, horror online co-operative FPS.
The game revolves around a team of freelance hunters hired by a contact known as "Book", who head out and try to exterminate armies of bloodthirsty monsters after recent outbreaks. The team is made up of four totally different personalities - Hector: an arrogant ex-professional hunter, AJ: the sole lady survivor of a Slasher attack which whipped out her sorority sisters. Doc is also an ex-hunter who is now, well, an underground doctor. Miko is a Japanese assassin who's bored with her jobs until one of her targets turned out to be a werewolf.
The team seem to really want to drive forward visuals and the number of enemies on screen at one point, with initial tests supposedly bringing up around 65 gruesome foes at one time. You'll come face to face with teleporting vampires, werewolves and the Slasher amongst other creatures of the night - each having their own unique ways of attacking which High Voltage are hoping will match human players "to outwit you, and to kill you in ways that you might not be expecting."
As for weapons, you've got your standard pistol, AK-47s, shotguns along with the more unusual killing devices for hunting out the undead. Also note the inclusion of Miko, the Japanese assassin - will there be swordplay? More than likely: "MotionPlus support and swords certainly seem appropriate for an assassin." As with The Conduit there'll be a whole host of customisation options for the Wii remote, nunchuck and HUD, with even more promised.
Now for the big one: Online. The Grinder has been confirmed to fully take advantage of Nintendo's Wi-Fi connection with there being currently no lag and the single player tweaked to work with others online - there'll be at least support for a minimum of four players to team up. Friends will be able to jump into and out of games, with the rest of your team CPU controlled when there aren't fellow humans to help out.
The game is currently being planned for a holiday 2010 release.
Be sure to read through IGN's interview with High Voltage for more details and soundtrack samples.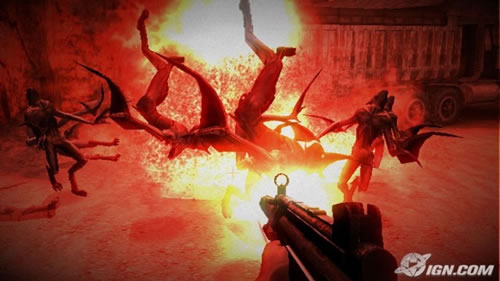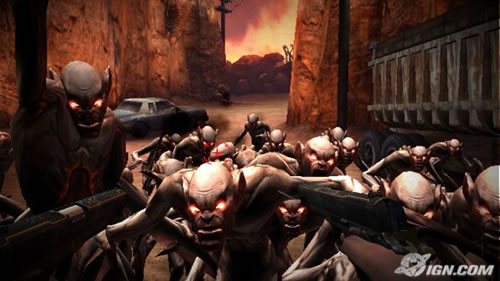 What do you think of The Grinder?
Update