Since the release of Sonic 3 on the Virtual Console back in 2007, it has been unknown as to the fate of Sonic & Knuckles, or more specifically, the feature that would allow access to upgraded Sonic 2 & Sonic 3. Sega has finally answered, with the addition of the game on Japan's release schedule for next week, and an explanation for the extras.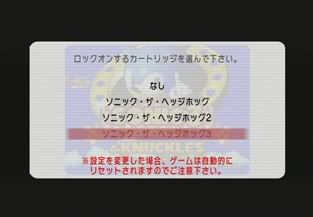 Upon purchase, the screen above will appear when you boot up the game, and it detects any of the three original Sonic games on your system. Choose one, and you'll be able to either play as Knuckles in Sonic 2, a special Minigame in Sonic 1, and quite possibly the best Sonic game ever made in Sonic 3 & Knuckles.
The other games slated for release are Championship Lode Runner from Hudson Soft, and both Face Off & Rolling Thunder 2 from Namco Bandai.
Update: A video of the whole process;
Thanks to GoNintendo.