Starting off from a humble Flash game,
Globulos
has amassed a strong following since its initial release back in 2003. Fast-forward to 2010 and GlobZ Team has decided to give the formula a chance on the DSiWare download service under the name of
Globulos Party
(
reviewed here
). To celebrate the game's long awaited European release, Cubed3 caught up with the development team to discuss the game in further detail and find out what is next on the cards.
Cubed3's Adam Riley, Senior Editor: GlobZ Team is only a small team. What is your background in the Videogame Industry?
Alexandre Houdent, General Manager at GlobZ Team: Well we almost started altogether back in the year 2000, so our background can be summed up by our experience within GlobZ Team. During those 10 years we have done many Flash games for hire. We also have developed a few of our own. Our first multiplayer Flash game was out in 2001.
AR: The Copyright date is 2003-2009 - what took so long for Globulous Party to make it onto consoles/handhelds?
AH: That date obviously does not cover only the handheld version, but covers the web version also. The first web version was out in February 2003. We like to put that date on, just in case some people think we might have been inspired by LocoRoco or Rolando. Our game was out before these games!
Still, the handheld version took almost three years to make. At first it started as a DS game. To release a DS game, though, you need a publisher. By the time we were looking for one the DS market was dead. That's when the DSiWare came out, so we adapted what we had already done for the DSiWare requirements/format. It seems a loooong time ago now because only one or two people were working on the game at the same time. And as it is our first game, we had to build everything from scratch. We have done a DS wireless mode and the DS download mode, both of which take time. Overall, we roughly spent fifty man-months on the project (in thirty-six calendar months), which means ten people could have done it in five months. Recently, I watched Scribblenauts' credits and I could not believe how many names were there!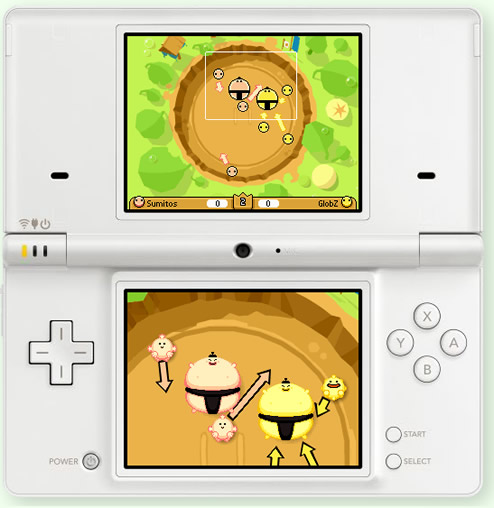 AR: How did you reach an agreement to receive Centre National de la Cinematographie (CNC) funding?
AH: The CNC has several funding sessions a year. We sent a submission in late 2006 and it was selected by the jury. We then received a 30,000€, zero-interest loan. We will start to pay it back in July of this year.
AR: Is the funding purely for this one project alone, or does it encompass a set number of future games as well?
AH: No the loan was just for this game. Aside from that we got one smaller subvention for a prototype of another game.
AR: In what ways are you trying to promote Globulos Party to ensure as many people try it as possible? Have you considered putting a trial version on the Wii Nintendo Channel?
AH: Well we are trying in many ways. DSiWare is really a "do-it-yourself" platform. We were not much into the Web 2.0 before and we are now trying to catch up. The Globulos Party Facebook page has more than 1,000 fans. We worked with a great company called Alerte Orange on the trailer because we thought the trailer was important. The trailer is the most viewed DSiWare game trailer on YouTube!
We have asked Nintendo about doing a DS demo version but they answered that DS demos on the Wii Nintendo Channel are for DS games only. When it is possible to have demos, though, we will make one. It would be the best situation for an original game like ours.
AR: Why did you choose to make it a touch-screen only game, rather than including an optional control pad choice?
AH: This was an accessibility choice. We wanted the players to have fun without reading the instructions. The core gameplay (drawing an arrow) works really well with the stylus. For the rest (moving inside the playing field) we could have added a control pad input, but we don't think hybrid controls are that great.
AR: Why was the Nintendo Wi-Fi Connection not used to offer online multiplayer?
AH: We would have loved that. We had a version running at one time. The thing is that doing it properly would have taken six or more extra months. We could not finance that. If you want to see what you are worth then you can play the online web version where some players have been playing for years…they are really hard to beat!
AR: The game has been criticised for not really having twenty different mini-games, with the majority being exactly the same, but with a slightly different 'skin'. What is your response to such critique?
AH: Most of the games are really different. Just read the list. There are none that are "exactly the same" - that is not true. A few of the most interesting ones (Football/Soccer, for example) come in different versions. Ice Hockey is almost the same as Football, with the exception of the goals being in the middle of the playing field like in real Ice Hockey, and the "ball" goes much faster. I think people that say that have only had a quick surface view of the game. Once you get into it and appreciate it you enjoy the sometimes subtle differences. If you don't like Reggae/Metal/Techno/Country music, it all sounds the same. If you like it, everything is different *winks*
AR: Some of the games featured on the Flash edition have been removed and replaced with other ones. Why was this decision made?
AH: Mostly for technical reasons. We have been doing Flash for more than ten years. There are things that are really easy to do in Flash that are a pain in any other language. One was also for legal reasons. One game available on the web is called "Pac'n' Glob" and is a very special homage to Pac-Man (while very different in terms of gameplay). If Namco does not like the homage then we can remove it from the web version right away. We could not have done the same with a DSiWare game. We are very cautious about inspiration. Believe it or not, we have been copied many times. It is always very painful!
AR: Globulos Party has won several different awards, but is receiving mixed reviews now it is on DSiWare. Is there anything you think should have been done differently, or do you believe reviewers are 'missing the point' somewhat?
AH: Awards and reviews are interesting, but hopefully we don't do games thinking solely about receiving awards and good reviews *laughs* So far we have received one 9/10, four 8/10s, one 7.5/10s (you can find all the links on our Facebook page), three 6/10s (IGN, CheatCC and Cubed3), as well as a 5/10 from NintendoLife. Overall our average is around 72/100, which is not what you will find on Metacritic, where all the worst reviews are compiled…
If you read the "good" reviews and the "bad" ones, the tone is not the same at all. The bad ones hardly mention the multiplayer mode, which is the best part of the game *smiles* For us, we could have done a hundred things to make the game even better for our standards, but I doubt the reviewers that did not like the game would have liked it more…I think it is normal when you do an original game that some people don't like it.
I think we could have done better with the name. We chose "Party" because there are a lot of mini-games, it is easy to understand, fun in multiplayer and you can play for short amounts of time. Some reviewers seemed almost furious it was not a button-mashing mini-game collection, though, as a result. Well Globulos is also a turn-based strategy game…If you don't get the game, you don't get the game, simple as that. Maybe we should have called it Globulos Pocket. The title would have also explained a little why there is a "pocket" version as well as a web version. Some people do not see the point in the DSiWare version as there is the web version in existence *winks*
AR: How well is the game performing, in terms current download totals - is it meeting your expectations? Will the game also be released in Japan?
AH: You won't find any sales figure about DSiWare games because Nintendo does not allow developers to talk about the numbers. Still, we are allowed to say if it "meets our expectations," as you say. In France we were Number One in the paid games list, behind the two free applications, Flipnote Studio and the Opera Web Browser. In Europe we can say the game is performing 'okay.' In the US, however, it is not the case at all. We sell as much in Spain, Italy and Netherlands combined, as we do in the US market.
The week that we launched Globulos Party in the US, Nintendo changed the "recommended" section (the shop window) of the US DSiWare Shop. Instead of putting the latest titles in there, they decided to keep the same titles as the previous week. It definitely hurts sales as when you are not "recommended", even for one week, how will people know the game has been release? However, for all the titles that have so far been recommended for a few weeks, they are now all in the DSiWare Top 10!
As for your other question, we would like the game to be released in Japan, but you can't submit the game directly. You have to find a Japanese publisher or developer. We are talking with some. We will see if it is possible. We would surely love that.
AR: In the Credits, gamers get to see the message: 'See you all soon.' What sort of other GlobZ adventures do you have planned?
AH: We are working on a very addictive puzzle game called Pokaboo. I can't say more for the moment. You can see an image here. We are considering other platforms as well. iPhone/iPod/iPad also seem to be nice platforms for developers…and PSP Minis? Why not!
AR: Is Globulos Party going to be brought to any other systems, such as the Wii where drawing the directional lines would be easy thanks to the IR pointer?
AH: A Wii version would mean online play definitely needs to be included, simply because the game is all about not seeing what your opponent is doing *laughs* Well, to sum up, we won't do a Wii/WiiWare version. You can play the web game on the Wii's Opera Browser…we have tried it…it works for a few minutes until the browser crashes *laughs*
AR: What are your thoughts on the newly announced '3DS' from Nintendo? Is portable 3D gaming really a possibility and do you have preliminary ideas for supporting such a system?
AH : At first our biggest concern was backwards compatibility with the DSi. Nintendo has said it will indeed be backwards compatible, though, so this is good news! As for anything else, it is really too soon to have a proper opinion. I have seen some Japanese mobile phones with 3D screens and they look nice. The first time you see a ball going in the direction of your head, you have the reflex to move out of the way - it is really funny to see. Just like when the Lumiere brothers did the first public screening of the "The train arriving in the La Ciotat station," everybody just ran out of the projection theatre thinking that the train would kill them! The only thing I am wondering is how long you can play before having a headache or feeling dizzy…