It doesn't matter if you're Black or White - both versions of the next generation of Pokémon will be launching in Western territories in Spring 2011, exclusively on Nintendo DS. Developers GameFreak look to be attempting to make changes with the new editions: we have already seen altered viewpoints and more animation in battles.
To promote this announcement, Nintendo and The Pokémon Company have revealed the main new Legendary Pokémon of the new games, who also act as cover stars to the games. Reshiram will be gracing the front of Pokémon Black, while Zekrom stands proudly on Pokémon White. Can anybody say yin and yang?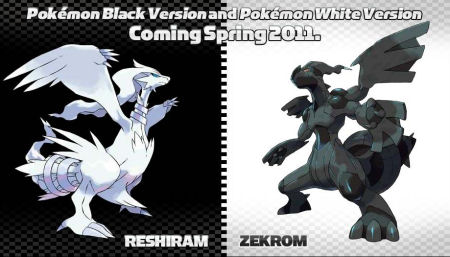 Your guess is as good as ours as to what they're meant to be, but we wouldn't like to run into them in a dark alley. Or a light one, for that matter.
There's also some extra footage up on the official Japanese Pokémon Black/White website, including a spot of wandering through the previously revealed city and some battles between the starter creatures. The music's unobscured too, unlike previous clips from TV show Pokémon Sunday, so your ears can wiggle happily at the delightful new tunes. Just click on the little 'New Stage' and 'Partners' buttons at the bottom of the page, then guide your cursor to the video camera icons.
We'll report more news on Pokémon Black/White as it comes. There's bound to be a lot before the Spring 2011 release in Europe and North America.
What do you think of the new Legendary Pokémon?