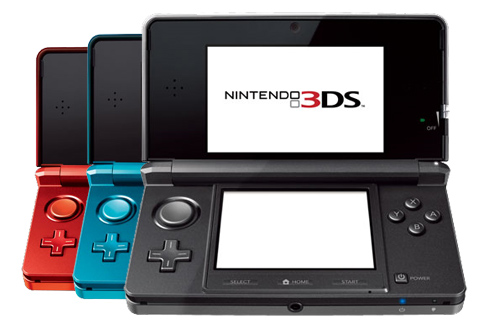 Following innovations with many of its hardware platforms in the past, right from the directional pad of the Nintendo Entertainment System's controller, right up to the motion sensing Wii Remote, Nintendo has been a leader of the Videogame Industry since the 1980s, with its competitors clamouring over themselves in an effort to be the first to 'pay homage to' the Kyoto Company's creations. Now Nintendo is about to move on from its DS handheld system, following four extremely successful iterations, and release the first ever 3D portable gaming platform, the Nintendo 3DS. Cubed3 was lucky enough to get the chance to check out the system, see a few video clips and go hands-on with a few early builds of upcoming games.
Read on for the team's initial thoughts...
Jorge Ba-oh, Cubed3 Founder
Alice in Wonderland felt as if I'd ingested far too many mushrooms and Avatar as if heavily sedated. So I wandered into Nintendo's swanky hired showcase high up in a remote London tower expecting to break several 3DS units in pure frustration. I left with a comforting reassurance that all is well and a lot of eye candy to boot. On first glance, the Nintendo 3DS is one slick puppy. You can tell immediately that it belongs in the Nintendo's continually expanding dual-screened family. Whilst not the lightest, it's certainly easy enough to carry, feeling robust and solid. Shove it in your bag, aimlessly wave it around to snap 3D images and pass it around careless friends and you can tell it'll stay intact. Unlike the original DS, it feels an evolution in both technology and looks.

The unit we got our sweaty mitts on was of the pure black variety, complete with the tactile DS buttons, a larger screen for the 3D visuals and comfortable analogue slider. Playing and watching feels great, foreground elements feel closer, whilst far away objects, for example hills and windows, give a sense of distance, as if the screen has unlimited depth. Whilst objects didn't leap out in like a 3D film, it was more of an inward sensation, drawing your eyes deep into the 3DS rabbit hole. It did take some time for to adjust to the effect, but thankfully the variable slider helps to get the focus just right. It's smooth, seamless and extremely simple to pop in and out of 3D.

We had a quick nip at Pilotwings and nintendogs + cats, and truly appreciated the sense of space achieved; tossing a tennis ball at an adorable puppy or nose-diving inches above the sea has never felt this close to real. The 3DS camera is arguably a bigger marvel, with a simple tap of the A button producing the effect within seconds. I came in sceptical that the 3D effect would work, especially with my abysmal eyesight, and left with a clearer vision that Nintendo have something truly special to deliver with the new 3DS.
Adam Riley, Senior Editor



Sadly there were not many examples of 3DS software on offer at the event in London, with the majority being technological demonstrations to give a hint at what to expect when the hardware has been completely finalised and any early issues with the 3D display have been ironed out following early user feedback. There was a short timed-demo of nintendogs + cats, showing off a new nifty facial recognition element, two stages of Pilotwings Resort where the 3D mode totally messed with my already tired eyes, and Hollywood 61, which made clever use of 3D and mixed in standard puzzles to good measure with some awful lip-syncing work. The rest of the offerings were running demos of in-progress concepts, such as Metal Gear Solid 3D, Resident Evil: Revelations and even a trailer for the upcoming movie from the folk behind the annoyingly cute Happy Feet, Legend of the Guardians: The Owls of Ga'Hoole. The general consensus was that the movie did not look extremely engaging, but the 3D effect on the 3DS system was actually more intense and personal than sitting in a large cinema with uncomfortable glasses on whilst watching the overly long Avatar.

Mario Kart and a rolling set list of game characters, settings and effects, including Pikmin sat in a luscious forest and Samus Aran ready and waiting to blast a shot from her arm gun, as well as a mesmerising scene from classic Mario games, with the plumber sat atop his faithful dinosaur friend, Yoshi, surrounded by breakable blocks, with the viewer able to play around with the camera angle to get a true feel of the full 3D effect. The system itself is rather like a slightly larger Nintendo DSi, which is somewhat of a comedown after months of playing on a DSi XL, but the inclusion of the flat analogue stick, as well as the 3D slider that allowed for essential gradation of the three-dimensional effect to help users' eyes adjust properly, on looks and usability alone, the Nintendo 3DS appears to be a winner. As for the 3D 'gimmick,' just as with the touch-screen usage on DS, it will all depend on how well developers implement the feature. There is a whole heap of potential waiting to be unlocked, so let us hope that videogame creators are ready to seriously rise to the challenge.
Mike Mason, Reviews Editor
Despite an array of 3D movie and game trailers, it wasn't until Nintendo's demo reel that things really hit me. Featuring shattering glass, popping champagne corks, Mario astride Yoshi in the midst of a twinkling galaxy, and a trip to a garden full of Pikmin and dandelions you could almost touch, this collection of still images and five-second mini-clips really showed off what 3DS is capable of. That is, a full range of convincing 3D effects, mainly of the variety that goes deep back into the screen, but occasionally sending forth elements that look like they're about to escape the system in front of your very eyes. The others have mentioned the excellent 3D camera and the analogue slider, but the playable demos from Nintendo were those that left the most lasting impressions on me. Pilotwings Resort borrowed elements from Wii Sports Resort, and the 3D looked perfect as you soared through the sky. nintendogs + cats took advantage of 3D in a way that screams 'launch title system seller', with noses poking out of screens and the cutest use of head-tracking ever. You'll hear more about these two soon in full hands-on previews.
Providing quality software comes, Nintendo are onto a winner with 3DS. Virtual Boy, you will be avenged.
Karn Bianco, Previews / Retro Editor
My first experience with the 3DS was a trailer for Legend of the Guardians: The Owls of Ga'Hoole, the upcoming computer-animated film. The film looks gorgeous in 2D, but it looks even lovelier here. The console's screen is a little on the small side for watching movies, but there's definitely potential. Playable games were few and far between at the event, so the majority of my time was spent with trailers and tech demos. One such demo came in the form of a gorgeous interactive Resident Evil cut-scene which I could pan around and zoom in and out of 3D as it progressed. Despite the 3DS' limited screen real estate, the additional layers of depth made possible by its 3D capabilities are really quite aesthetically satisfying. Seeing objects pop out of the screen and fly at your face is even more gimmicky and less effective than in a cinema, however.
Other 3D highlights included stunning interactive scenes featuring the likes of Mario, Link, and Pikmin; seeing a golden lab puppy touch its paws to the screen in nintendogs + cats; and the 3D camera, which produced flawless 3D images instantaneously. Beyond 3D, the 3DS' new slide pad also made an excellent first impression. Using the slide pad to glide through hovering rings in the Pilotwings demo felt surprisingly responsive. It's easier to use than the PSP's analogue nub, and a lot friendlier than the DS' thumb strap, too. Just like the Wii, the 3DS really needs to be experienced in person to be appreciated. That said, when you're given the opportunity to try it out, I think you'll be pleasantly surprised.
Stuart Lawrence, General Writer

Mario Kart, and while it was like seeing Mario Kart Wii in the palm of my hands, I came away unimpressed because the 3D didn't really 'jump out at me', so to speak. As I saw more games and trailers, though, the 3D began to take more of an effect on me. The first thing that impressed me was the Resident Evil Revelations trailer. This may have been because it was interactive, the camera being movable, and I was immersed in the trailer with the 3D effect.

Also, it made me realise how comfortable and easy the analogue slider was to use. I was more impressed with Nintendo's technological demonstration reel than the E3 Kid Icarus trailer, which was a lot better on the little 3D screen than on my laptop. The tech demo that really had me convinced that this was true 3D was Metal Gear Solid 3D: The Naked Sample. It was brilliant, and everything from letters to an alligator really stood out on the screen. Pilotwings Resort's added depth made it easier to judge where I should go to pop the balloons. Taking a 3D picture with the system was nice because that was when I noticed the difference with the adjustable 3D, although this time it was the analogue nub that controlled the depth. To finish it all off I played with a boomerang on nintendogs + cats, which actually made me think that it was going to hit me for a moment. Overall I was impressed, but not overwhelmed by what I saw, but from what was seen here, the 3DS does have massive potential.

Clearly it can be seen that the 3DS from Nintendo has people intrigued, and this is not merely a case of people either simply liking or disliking the concept, with the whole idea currently being somewhat 'grey' as this is not yet the finished product and the full array of games in development for the system has not been unveiled so far. From what was shown at the event in London, Hollywood 61, nintendogs + cats, and Pilotwings Resort all have extremely pleasing elements that make them enjoyable games in their own right with the 3D effects turned off, but then add so much more life to the experience when the 3D is cranked up. The numerous tech demos and video clips also highlighted what can be expected. On the whole, however, the main point has to be that everyone doubted Nintendo when the DS was first unveiled with its touch-screen, and the same was true of the underpowered Wii console and its motion-controls. Given how both these have been roaring successes that turned the company's entire fortunes around, it would be foolish to bet against the 3DS.
Adam Riley, Senior Editor