Nintendo are really pimping the new Nintendo 3DS hardware to the public, confirming games for the upcoming Nintendo World show in Japan.
In around 2 weeks, January 8-10th inclusive, Nintendo will be hosting a huge public trade show to allow eager Japanese gamers to get their hands on the 3DS hardware, whilst trying out a whole treasure-trove of must have first and third party games.
Playable 3DS Games/Demos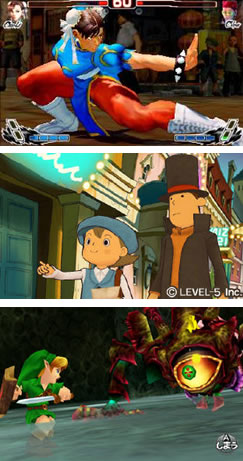 AR Games (Nintendo)
Dead or Alive Dimensions (Tecmo Koei)
Hideo Kojima's Metal Gear Solid Snake Eater 3D The Naked Sample (auto demo) (Konami)
Kid Icarus (Nintendo)
Legend of Zelda Ocarina of Time 3D (Nintendo)
Nintendo 3DS Camera (Nintendo)
Nintendogs + Cats (Nintendo)
Pilot Wings Resort (Nintendo)
Professor Layton and the Miracle Mask (Level-5)
Resident Evil Revelations (Capcom)
Ridge Racer 3D (Namco Bandai)
Samurai Warriors Chronicle (Tecmo Koei)
Steel Diver (Nintendo)
Super Street Fighter IV 3D Edition (Capcom)
Winning Eleven 3D Soccer (Konami)
There'll also be various games shown on the screens as part of a video reel, including the likes of Super Monkey Ball 3D, Kingdom Hearts 3D, Starfox 64 3DS and Animal Crossing 3D.

Alongside the playable demos and videos, the stage will host several presentations to help introduce the system and the games, with the help of top franchises like Metal Gear Solid and Resident Evil.

Via Andriasang.