AlienAfterAll's superb DodoGo! for Nintendo DSiWare looks to be finally heading to Japan. Following the release of the original outing from Neko Entertainment and AlienAfterAll earlier this year, it appears that Beyond Interactive Inc will be launching the cute action puzzle title in Japan early in 2011. The developer has already dropped a few hints about the Japanese release via the game's official website. The main clue is how a Japanese flag recently appeared on the leader board feature of the game's website site (see image below), whilst there is also a connection with Japanese publisher Beyond Interactive, Inc, an outfit that recently had great success with the release of GlobZ Team's Globulos Party, also on DSiWare.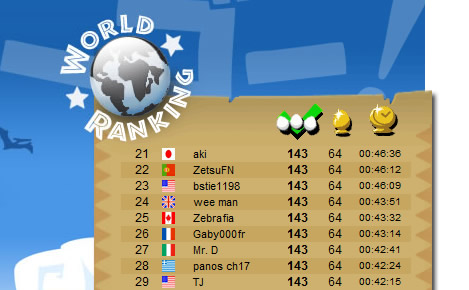 Cubed3 heaped praise on DodoGo! back in May 2010, awarding it 9/10 and calling it "a splendid action puzzle effort that successfully marries the best elements of other much-loved games, whilst mixing in numerous interesting quirks of its own to help give [it] a unique identity", and will be reviewing its DSiWare sequel, DodoGo! Challenge in the next couple of weeks. Back in September, Cubed3 caught up with the game's creator, Denis Mercier, to talk about the project in more detail, and with any luck we will soon be reporting final confirmation of the game's release in Japan, followed by a success story of it sweeping the nation as it truly deserves to.

Have readers tried either DodoGo! or its sequel, DodoGo! Challenge?