Lucky folk over in Japan are getting their gaming palms on the 3DS, with new details emerging from the Zelda 3DS demonstration.
The Legend of Zelda: Ocarina of Time is being reborn on the handheld, and with it brings revised visuals/texture work and 3DS specific enhancements to bring a slice of extra innovation to the experience.
We've seen in past screenshots that the bottom half, the 3DS touchscreen, is used to host the item inventory. It's also now confirmed to house a "tap for camera" feature, where you can switch viewpoints and look around using the 3DS circle pad in first person.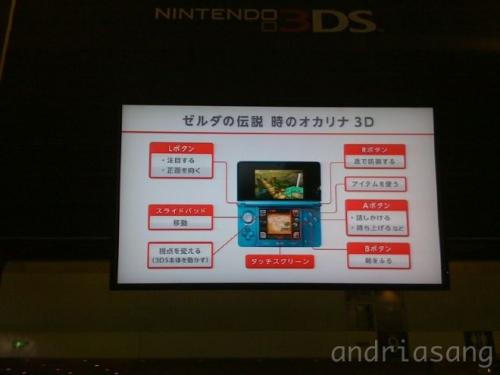 Fairly standard, however the 3DS's physical cameras can also come into play, letting players look around by moving the 3DS as an optional motion-controlled camera. You can fire projectiles in this mode if you wish also.
The touch screen will also hold your map and a flashing Navi button if she dares tries to interrupt your adventure with useful tips and advice.
Via Andriasang live tweets.
What do you think of the feature - would you use the 3DS to look around and fire weapons, or will you be sticking to the regular analogue feature?