One of the strongest third party supporters of Nintendo's 3DS, Ubisoft today announced that they would have no less than eight titles released in the handheld's launch window: Driver Renegade, Rayman, Rabbids 3D, Asphalt 3D, James Noir's Hollywood Crimes, Tom Clancy's Splinter Cell 3D, Tom Clancy's Ghost Recon Shadow Wars and Combat of Giants: Dinosaurs 3D.
Media for four of these titles has appeared on Nintendo's 3DS press site. Click the game titles to go to the game pages, where you will find more screenshots and any associated news stories.
The Rabbids find themselves tumbling through time in their Time Washing Machine, wreaking havoc over four time periods and 64 levels in this stereoscopic 3D-enabled 2D platformer.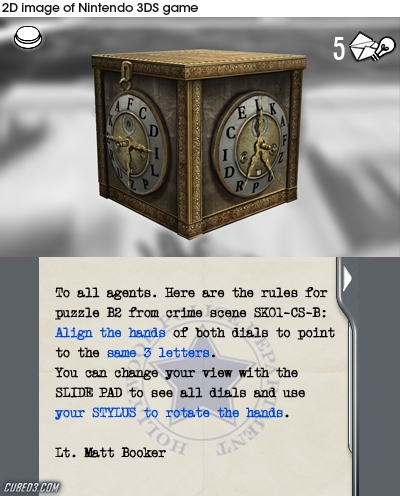 Previously known as Hollywood '61, James Noir's Hollywood Crimes is an original puzzle game from Ubisoft Montreal. Boasting realistic 1960s-style artwork and 140 3D puzzles, there'll be plenty to get your mind around here.
42 licenced bikes and cars, from the likes of Ferrari, Lamborghini, Audi and Ducati, are available for selection in the third entry to the Asphalt series. As well as regular races, cash attack, vigilante, high speed chase, drift, time trial, duel and leader of the pack modes are available, and up to six players can play wireless via StreetPass.
Combat of Giants: Dinosaurs 3D
Ubisoft's popular Combat of Giants series stomps on, this time returning to the land of dinosaurs for their first 3D adventure. Combat is now real time, and items can be traded with other players. StreetPass support has rival dinosaurs battling as you walk around, or helping out creatures of the same or friendly species.
We'll have more news and hands-on impressions of Ubisoft's 3DS line-up in the coming days.