That's right Ace Attorney fans, a live action movie featuring Capcom's best defence attorney and prosecutor is hitting the big screen. The much-loved series was rumoured to be the latest project by director Takashi Miike of Crows Zero and Thirteen Assassins fame. It's now officially confirmed, and will be hitting Japanese cinemas in Spring next year. A localised edition has yet to be announced, but with the series having worldwide appeal expect at the very least fan-based subtitles.
Phoenix Wright will be played by Hiroki Narimiya, joined by Takumi Saito as Miles Edgeworth and assisted by adorable spirit medium Maya, cast as Mirei Kiritani.

Update: Capcom have released a very blurry teaser image from behind the scenes of the Ace Attorney movie, showing off the courtroom.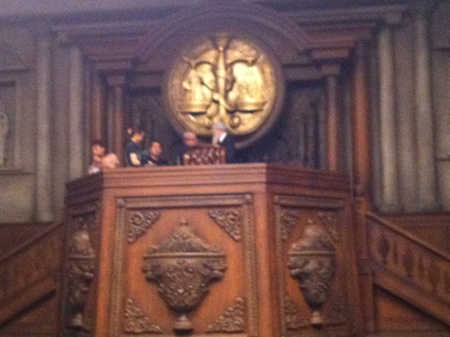 What do you think of the cast selection? What parts of the Phoenix Wright story would you like covered - or should it be a completely new adventure?