This year Nintendo will release Wii Play Motion, a collection of 12 MotionPlus-enabled mini-games for the whole family. The package comes complete with a black Wii Remote Plus to help ensure that you have enough controllers to get the most from the game.
Whether you are tilting umbrellas in gusts of wind or waving the Remote about like a maniac with a hammer, all games are playable in both multi- and single-player. A rich experience is promised, with unlockable content to enhance proceedings.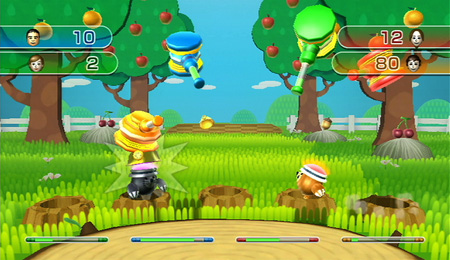 Wii Play Motion is out in a matter of days. Will you be picking it up?
Update - Nintendo of America has confirmed the release of Wii Play Motion:
Families can now expand their Nintendo video game library and their collection of Wii accessories at the same time, at a suggested retail price that will keep them smiling. Launching today, 13th June, exclusively for the Wii system, the Wii Play: Motion game invites people to join together for a variety of new motion-controlled activities that will have everyone in the household enjoying themselves throughout the summer and beyond. Building on the immersive, family-friendly action of the original Wii Play - one of the top-selling video games of all time - Wii Play: Motion comes packaged with a black Wii Remote Plus controller, which features the built-in precise motion control of the Wii MotionPlus accessory. Wii Play: Motion is offered at a suggested retail price of US$49.99.

The 12 included games in Wii Play: Motion ask players to wield the Wii Remote Plus (or Wii Remote with Wii MotionPlus accessory, sold separately) in a multitude of interesting ways. In Wind Runner, players tilt the controller to change the angle of an umbrella as they ride gusts of wind along a gem-filled race course. In Veggie Guardin', they swing the controller like a mallet to ward off pests that threaten to steal vegetables from their garden. Spooky Search brings the action off the screen and into the living room by challenging players to track invisible spirits by pointing the controller around the room and listening for clues. In Teeter Targets, players carefully flip a ball into targets by tilting the controller like a seesaw.

Some activities feature additional modes that players can unlock as they progress. All 12 games can be played in single-player or two-player modes, and four of the games can be played with up to four players. (Additional Wii Remote Plus controllers are required for multiplayer modes and are sold separately.)

Families and friends will have a blast experiencing Wii Play: Motion together. With a dozen built-in games that anybody can pick up and play, it's a surefire way to spark instant social fun, whether you're hosting a get-together or just enjoying some downtime at home with loved ones.
- Cindy Gordon, Nintendo of America's Vice President of Corporate Affairs.

The launch of Wii Play: Motion follows last month's announcement of a new suggested retail price and hardware configuration for the Wii system. Starting 15th May, 2011, the Wii system package became available for a suggested retail price of just US$149.99, including a Wii console, Wii Remote Plus controller, Nunchuk controller, Mario Kart Wii game and Wii Wheel accessory.