Nintendo have officially announced a limited edition bundle for The Legend of Zelda: Skyward Sword. The game is set to hit US stores on November 20th 2011 and Europe on November 18th 2011.
You'll be able to pick up the bundle, which includes a music CD and gold Wii Remote Plus. The music CD will include arrangements of select songs from The Legend of Zelda 25th Anniversary Symphony Concert.
The limited edition bundles, which include the controller and CD soundtrack will retail at $69.99 (RRP) and regular copies of the game will sell at $49.99 (RRP). As an additional 25th anniversary treat for fans who purchase the game early, every copy in the initial production, whether sold by itself or as a part of the limited-edition bundle, will come with the free music CD. Nintendo have no current plans to sell the special gold Wii Remote Plus separately at retail.
In addition to this news, official box art has been revealed in a promotional image for the bundle, which can be seen below.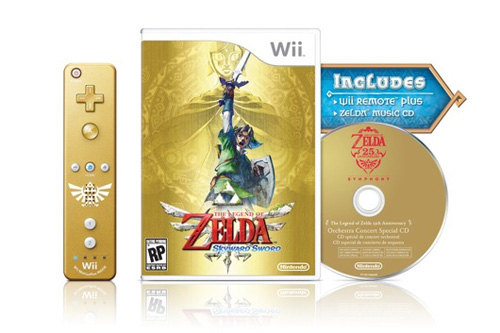 Update 30/08
Nintendo of Europe today confirmed that the Legend of Zelda: Skyward Sword bundle is also coming to Europe as a limited-edition bonus for nabbing the forthcoming adventure early - it's essentially the same deal, containing the Golden Wii Remote Plus, music CD and of course a copy of the game itself.