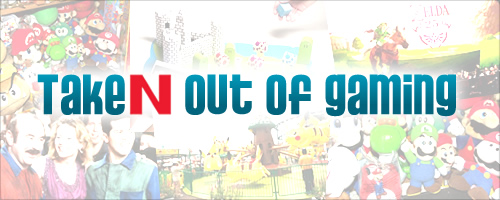 Welcome to Cubed3's monthly dosage of
TakeN out of Gaming
! This newly established feature analyses a select gaming franchise that has had notoriety on Nintendo machines, looking at where it has been and where it could go in other media.
This time, we look past celebrated Nintendo franchises and take a magnifying glass to one that has had its most successful showcase on the Big N's devices. The first game was a mere blip on the radar, but its sequel would go on to become one of the most successful arcade games ever, and a big draw for potential Super Nintendo buyers. Give an EX-tra Turbo-charged Super Alpha welcome to Street Fighter!
1987 was the year that fists started flying in Japanese arcades when Street Fighter entered the fighting stage. The series' main pyjama-clad warriors, Ryu and Ken, made their first appearances (although ones that would alter greatly in future instalments), as did others like Sagat and Adon, together with techniques like the Hadouken and Shoryuken. This was also where command-based special techniques were established for the series, thereby ensuring no-one would ever forget how to do a dragon fireball.

The game was well received and garnered respectable sales, though its subsequent porting to popular home machines of the day like the PC and TurboGrafx saw it renamed to Fighting Street for an unknown reason. Although Capcom tried to position the first Final Fight game as a sequel to Street Fighter before its decided genre change, the true sequel would send the series' recognition into overdrive and straight out of the atmosphere.

Arriving in the arcades in 1991, Street Fighter II was a revolutionary step in fighting games, winning an untold number of gaming magazine awards, and is credited for starting the 90s boom for the genre. Street Fighter II was the first fighting game that would let you select from multiple combatants, each with their own extensive range of moves and techniques. It is also known for introducing the first playable female in a fighting game. The visuals were outstanding for the time and gobbled up coins and quarters like nothing else.

Updates and revisions under the Street Fighter II name were released, like Super Street Fighter II and Super Street Fighter II Turbo, but the first game was the most successful. Bringing in over $1.5bn in revenue for Capcom, the Super Nintendo version as the House of Megaman's is still best selling game as of today.

Naturally, with that level of success, Capcom would get all they could out of the franchise before the eventual third and fourth versions. Besides the revisions, there were also spin offs in later years, such as the Street Fighter Alpha series that took cues from the 1994 animated movie, and the Street Fighter EX series which brought the franchise into 3D blockiness. There have also been many crossovers with not only the Street Fighter brand, but many of Capcom's others too. Ranging from Marvel Super Heroes VS Street Fighter, to Namco X Capcom, Tatsunoko VS Capcom, Marvel VS Capcom and the forthcoming Street Fighter X Tekken, many a gaming fan must wonder when the inevitable must happen...
Other Media
1994 was the year that Street Fighter began to make its name outside of the gaming screen. That year saw two movie releases: Street Fighter II The Animated Movie, and the US live-action Street Fighter film. The former told the story of the evil M. Bison's Shadaloo organisation and his plan to brainwash the worlds best fighters into his service, with Ryu as his primary target and a military force led by Guile and Chun-Li out to stop him. This movie provided the basis for the Street Fighter Alpha series, and received a unique game adaptation of its own in Street Fighter II Movie; you were given the task of analysing fighting techniques through cutscenes from the movie and adapting them in order to battle Ryu at the end of the game. As it was shown from the eyes of a cyborg and it featured only one fight at the end it was more of a life simulation game than anything, and thus as a more niche title it stayed on PlayStation and SEGA Saturn in Japan. The movie itself was dubbed into English in 1995 and released overseas.

The US Street Fighter film, starring Jean Claude Van Damme as Guile and the late Raul Julia as Bison is easily the more well known of the two, and due to its cheesiness and (generally) bad acting it was initially not looked back on too fondly. However, due to this film being the last of Julia's career (and one of his best performances), and the recent Legend of Chun-Li movie that focuses on said character and failed to set the world alight, Street Fighter The Movie has gained new respect as a lighthearted take on the franchise. Two games were also released that used digitised characters based on this, not unlike the series' one-time arcade rival Mortal Kombat, and these two did see international release, though due to their quality many wondered why.





One of the more famous references in the Jackie Chan film City Hunter. No Ryu?! Blasphemy!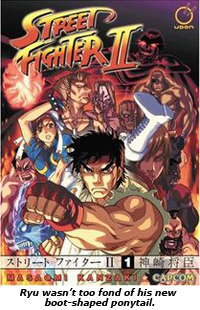 Street Fighter has entered the realms of books with comics and manga. Four different Street Fighter mangas have been created by Masahiko Nakahira, and a US-based comic book series from publishers UDON that draws inspiration and sources from both fan fiction and established continuity.

The Universal Fighting System, a collectable card game based in the US, also has Street Fighter-based cards, owing to its convention of adapting popular fighting videogames into cards.

An American band entitled Man Factory found recognition creating 'Street Fight! Round One', a rock opera which revolves around the characters and events of the games.
Future Possibilities
With Street Fighter's popularity being as strong as it has been over the years, and made all the more resurgent thanks to the fourth game, it is difficult to see where the series could go next as it seems to have hit the major plateaus already.

As of yet, there hasn't been a truly good movie adaptation with a serious tone and effectively-choreographed fight scenes. The Legend of Chun-Li's box office failure and hazy reception, coupled with the Tekken live-adaptation's relatively low fanfare, would suggest that the paying audience would be uncertain on seeing another attempt so soon. So, Capcom would be wise to take a page from Warner Bros.' diary, and try something like this, an internet-based webisode series, or even a TV drama, to drum up more interest:





For a more comedic take on the franchise, check out CollegeHumor's take on what happened after Street Fighter II.



Another step Capcom could take is to have a go at revitalizing the gaming arcade industry. Gaming arcades remain as popular as ever in Japan, but have fallen by the wayside in other territories, giving more space to gambling machines. Although it would still be classed as within gaming boundaries, an arcade-exclusive Street Fighter title that pulls off a new angle impossible to replicate at home; like say, a new force feedback input or a virtual reality cabinet, could be hugely beneficial to the brand. It's difficult to think of a time since the days of Street Fighter II and Mortal Kombat where arcades have been so huge; could Capcom's lightning strike twice?

Or perhaps Capcom could go completely doo-lally and go for a different market with the First Lady of fighting games...
Every Christmas and shortly after, TV viewers are usually treated to a host of celebrity commercials trying to sell fitness DVDs to people who couldn't resist that extra piece of turkey. With a bit of CGI magic Capcom could take a similar route, and who better to front it than ol' Thunderthighs herself, Chun-Li? Not saying that you would have to drag someone in off the street to use as a sparing partner or anything, but some leg stretches and tummy tucks would be enough for the geeky girl crowd.
This wouldn't be completely out of the nowhere either; by joke or serious idea, Capcom has entertained the idea of a Street Fighter-themed Balance Board videogame in the past, even reportedly going as far as making a demo for it before deciding to just do a regular game in Street Fighter 4: 3D Edition on Nintendo 3DS.
As one of the most famous gaming brands on Earth, there are few reasonable areas that Street Fighter has not yet tapped into outside of its most successful ventures in gaming. It will be interesting to see where Capcom take the series next; whether they work to refine what is already here with revisions and new films, or seek to innovate, pulling the series into new and unexpected areas, to stop fans eventually growing tired of the formula. Would long time fans and owners of the newer Street Fighter editions say that it needs a shot of superconductor electromagnetism, or that the Flash Kick is as refined as ever?