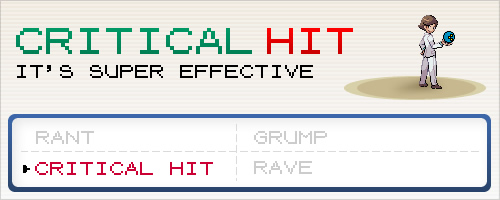 They call me grumpy, they call me cynic, they call me sceptic, always the same. That's not my name, that's not my name, that's not my name, that's not my name! My name is, in fact, Ross Marrs and I feel obliged to share my thoughts on videogames. Therefore, here arrives Critical Hit, a monthly look at my various annoyances about the videogame industry.

I return once again to share my thoughts on the things bothering me in the world of gaming, and this month there's been plenty of news for me glance over and rant about. Nintendo 3DS has had big news, with the surprising announcement of an attachable second slide pad. I say surprising, because I was shocked Nintendo would release such a thing. Whilst the idea of having an extra slide pad is welcomed by me, I can't help but feel Nintendo should have planned the 3DS much better before launching it and it should have been there from the start.

I don't want to echo the hundreds of other sites reporting this problem though and instead, I thought I would share my thoughts on something else that I feel needs fixing. Reggie Fils-Aime once said:
"The graveyard of any industry is filled with the headstones of companies who decided to keep doing things the same old way. Playing only on the margin, making things just a little bit better. That strategy works....for a while, but ultimately it's fatal. Over the years our industry has come to accept progress simply by what's on the screen."
Whilst I realise this statement was made about videogame hardware, one part of it grabs my attention, particularly because it also relates to some of Nintendo's franchises. Doing things the same way and making things only a little better is one of my main concerns about the Animal Crossing series. I think it's fair to say, since the original on the Nintendo 64, that it hasn't changed much at all, with Nintendo removing or adding some slightly new aspects. In other words, there's yet to be a massive change in the repetitive formula. This is completely fine if you've never played Animal Crossing, since they are great games, but once you've played one of them there's not much else you're going to get from buying any of the others.
I find it really disappointing, since Nintendo has the opportunity to take this franchise and evolve it in so many ways by now. Thankfully it seems like Animal Crossing 3DS will change the way you play more than previous versions. Players now take the role of a new mayor for your village and you'll have to keep under control, though it remains to be seen how substantial these alterations are. Judging by the trailers we've seen you'll have the ability to swim, pick mushrooms and change more clothing on your characters, but I've not seen much else. New music was featured, which has got me excited, but ultimately, I feel more needs to be done to justify another £30 for near enough the same game again.
Animal Crossing: Let's Go to the City had a nice idea in that it expanded the gameplay out to a new area instead of just the village area, but it was far from a 'city'; instead it only had a few extra shops, some of which were already previously found in your village. For the next instalment, I really hope Nintendo work on creating a much larger city to explore, with lots of new shop and areas to visit. Lots of new animal characters could be introduced here, with crowds roaming around, just like a real living, breathing city. Speaking of areas, there really needs to be a variety in environments to explore as well. Perhaps a large forest, or mountains, or caves. It'd create more exploration and could provide incentives like new treasures to find, or characters could give you tasks to collect something in these areas.
More customisation is also a must, particularly with the main character and your village. We know Nintendo are adding more changes to the main character in the 3DS version, with the ability to now change your lower body clothing, but what about different skin colour and different weights? Lots of new hairstyles and colourings should also be added. As for customising your village, the latest 3DS Animal Crossing trailer did show a bench and lanterns, so perhaps Nintendo have now added the ability to put objects outside. The ability to lay down your own roads and paths would be a nice addition too - you could ride bikes or other small vehicles on them.
Those are just my ideas though; I'm sure Nintendo could come up with many more creative additions. Ultimately, the franchise really needs to evolve more to keep it fresh, and hopefully the 3DS version of Animal Crossing will set the series on the right path for the future. This doesn't apply to Animal Crossing alone, however: many other game franchises could do with being freshened up, with examples like Pokémon, which has generally stuck to the same formula since the first game, and Kirby, which doesn't vary too much aside from quirkier quests such as like Kirby's Epic Yarn and Kirby: Power Paintbrush.