A few years back, Cubed3 took at look at a funky little device called the
T3 Mobile Stereo Speaker
from orbitsound, which worked wonderfully as a contraption that could either be worn around your neck, or left on a flat surface and used an airSOUND loudspeaker to create the illusion of 3D surround sound. It was a fantastic piece of kit, even for its
retail price of £49.99
. In fact, it still
is
brilliant, being used to this very day for the majority of Cubed3's portable reviews, but that does not mean there are not other great options out there.

Recently two new products have crept up Cubed3's most favoured list, namely the CinéOle home theatre system from Cabasse and Otone's new portable solution, the Aporto. The former is from a French outfit that has become the leading manufacturer of high quality loudspeakers, and is actually part of the Canon group. The beauty of the CinéOle set-up up is that the two satellite speakers and large woofer unit all look extremely slick, coming in either gloss white or black, and fit in with most modern rooms. After all, part of the appeal sometimes is having something that fits the general décor, rather than standing out like a sore thumb, especially if your gaming systems are in the front room, as opposed to hidden in some dark, cob-web filled 'work' room where guests never dare venture for fear of not escaping ever again.

There are two really impressive features of the CinéOle kit, other than the heavy bass and strong sound from the spherical speakers, and they are the fact that the system's controller can be programmed to work with other household appliances that rely on remotes, and how it actually turns itself on when detecting the original source (TV, game system, and so on) has been activated. The latter feature is particularly cool, since it proves to be a real time saver. Recently there has been nothing better than jumping into epic adventures such as The Last Story and Pandora's Tower and hearing the CinéOle's internal click and suddenly being enveloped by a swirl of gorgeous music. In the same way it turns on automatically, it also switches off after a period of inactivity, going into standby mode.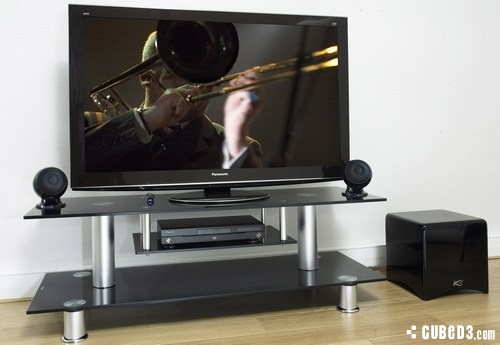 Place the speakers directly on either side of your TV, spread them wider across the room for more of a 'surround sound' feel, or even mount them on the wall, there are plenty of options for placing them to suit preferences. There is also a choice of different inputs, with an RCA connector cable to hook up to the back of TVs, a wire for if your system or flat-screen has an optical out and even the option for a traditional 3.5mm 'headphone' connection for anyone wanting to listen to the toe-tapping tunes of portable titles such as Rhythm Thief and the Emperor's Treasure. The cost of such a pleasing 'home cinema' system? £849.00. If you are looking for a long-term, multi-purpose solution, however, it is actually one of the cheaper options on the market today and works wonderfully.
If a cheaper option is favoured, though, for £34.99 there is the Aporto from UK company Otone. This versatile alternative is not suited to home console gaming, but works nicely with any portable systems, and has recently been making the already stunning Inazuma Eleven 2: Blizzard soundtrack from Yasunori Mitsuda-san sound even better thanks to its stronger output than the T3 Mobile Stereo Speaker, a reality that is mainly thanks to its two-speaker set-up rather than orbitsound-created single central speaker. The Aporto can either be used in its combined one-piece format, or the sides can be gently detached and the extendible wires that had previously been hidden can be stretched to place the two speakers further apart. Being battery powered (taking four triple-As) helps increase its travel value for those wanting to use it for gaming or music purposes, but there is also the option to power the device via a USB connection so that it can easily be connected to a laptop if needs be.
At a mere 294mm x 73mm x 50mm and only weighing a tiny 0.38kg, it may not be as flexible as the orbitsound T3, but it still proves to be a highly impressive alternative, and there is even the opportunity to use the USB connection as an audio input, rather than just for power purposes. Versatility is the name of the game with the Aporto, and it definitely has it in spades.
What audio systems do you use? Do any of the above options catch your eye for your home console or portable gaming needs, or are there other devices that readers can recommend? Let Cubed3 know in the comments section…