One of the biggest, if not the biggest, questions asked about the new Nintendo Wii U is on the GamePad itself - Is it comfortable? Why the large screen? Does it add anything to first Wii experience. Much like the original console and the 3DS, Nintendo's latest living-room sensation is something that has to be
tried
and seen in the flesh to be fully appreciated.
This week the Cubed3 Team did just that, in the heart of London town at Nintendo UK's E3 Showcase, getting our paws on both the Wii U GamePad and Classic Controller Pro. Several hundred shakes, rubs, swipes and taps later we've come back with a sense of how it performs in these early launch titles, with the potential for more.
Just how did Nintendo's new kit fare in a world dominated by tablets, smartphones and motion control?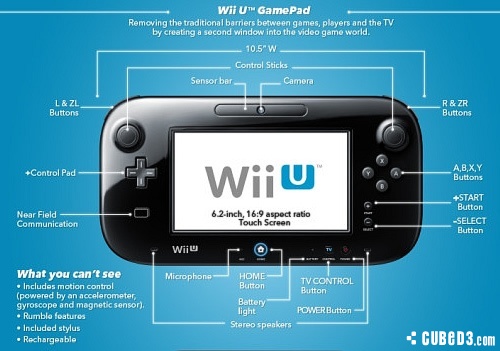 Jorge Ba-oh, Editor/Founder
Nintendo's had a great run when it comes to control. From the very early days of the two-buttoned NES controller to the sublime GameCube controller, the company has always been at the forefront of innovation. An unusual concept that simply needs to be touch, felt and embraced.

I was curious but a little weary about my first touch. Like my early days as a teenager I approached with caution but was quickly ushered into a game - Nintendo Land. I was pleasantly surprised. The Game Pad is light on the hands, but still gives a robust and high quality feel. Nintendo also added smooth grooves on either side for a well-contoured grip when horizontal, plus a ridge when upright. It also doesn't feel too large either, scaling up at fractionally longer than a Wii console in length, tiny bit smaller in height and around 2 DVD cases in thickness.

It's as comfortable as a conventional controller, but after an hour or so the "3DS syndrome", where the edges dig slightly into your palms, did kick in. It's weight did also cause a slight bit of tension, especially when holding the GamePad vertically.
The screen itself looks vivid, bright and rather gorgeous. I was a little disappointed being spoilt with crisp mobile phone and tablet screens - so it did, to be fair, look slightly weak by comparison in today's standards. Still, at a whopping 6.2 inches - it packs in a wealth of pixels and a very responsive touch. Syncronisation between pad and console without wireless had the potential to be sluggish, but the Wii U's shining aspect was just how immediate and sensitive everything was - particular in the Nintendo Land examples, Super Mario Bros U and Game & Wario - applications built for finger tapping, stylus poking and swiping. Nintendo were wise to opt for a screen that could handle both finger and pen - though most demonstrations favoured the human digits, the pen also offered that extra bit of precision.
Comfort and precision aside, does it enhance the experience. On a core level, yes. Playing simple, yet addictive, co-operative mini games with others was enriched by the different view and unique control offered that opens up a lot of promise for these sorts of concepts. Taking it further, as a solo player inventory, dynamic map or command list - where you need to continually switch between TV and GamePad - it became trickier to muster, confusing at times. But after some time spent, interacting between both screens grew to be more natural.

The controller essentially makes the Wii U - it's a solid piece of kit that certainly deserves some attention - well moulded, high quality finish that Nintendo is known for. All that's needed now is a comparable roster of games to fully take advantage of the new tech. Just like it did back in 1983, the future once again begins with the GamePad.
The Wii U Pro Controller is the GamePad's younger brother essentially - smaller and lighter. One thing that's immediately apparent is its weight - it needs to eat a little more; coming in around the same as the original Wii Classic Controller Pro. Something akin to the Xbox 360 or WaveBird would be far more substantial, though it does sit nicely within the contours of your palms. The other factor is button placement - aside from feeling exceedingly tacky (Nintendo did say these would change in production), the positioning of face buttons underneath the second analogue stick was purely bizzare. Something that players could adapt to, but an odd idea nontheless.
Adam Riley, Operations Director
The Wii U GamePad is quite an intriguing device, and something that looks initially too cumbersome to work as a standard control setup. However, it did not take more than a few seconds for it to immediately feel comfortable and a natural part of the gaming experience. When playing through Nintendo Land it worked smoothly as a form of moving characters around on-screen whilst focusing on the GamePad's own HD screen, and whilst playing something like Project P-100 it led to the controller feeling somewhat like the large arcade pads that many gamers prefer to smaller controllers.

Interestingly, there were many times when playing games where the whole scene can be viewed on both screens simultaneously led to eyes being drawn to the GamePad alone, and it was almost a struggle to force the eyes back upwards to the large HD television mounted on the wall. Whether or not this will prove to be problematic in games where both need to be viewed at the same time during an adventure is still undecided. However, during Batman Arkham City: Armoured Edition and ZombieU it did indeed prove to be a big distraction moving the viewpoint from straight ahead to the palm of your hands. On the other hand, Project P-100's simple touch-screen input commands that help launch special attacks integrated into the experience extremely well. The best examples of the dual approach, though, were in Game & Wario and Panorama View as the GamePad had to be held with arms outstretched, with its internal screen becoming an extended part of TV, making for a truly immersive experience.
The only issue in terms of button layout with the GamePad was found when playing New Super Mario Bros. U, since quick button presses for running and jumping sometimes led to the Start button being hit, thus pausing the action and putting the three other players off completely and definitely detracting from the rollercoaster ride taking place. This is quite an intriguing aspect, since Nintendo actively made an effort to relocate them from their initial location on either side of the Home button to just underneath the main action face buttons. Presumably this was done to prevent them being accidentally hit when holding the GamePad in its vertical orientation, but instead they get hit when the action heats up in the horizontal position. Quite the dilemma!

The trickiest aspect of using the GamePad, on a personal point, was indeed holding it vertically, especially during Takamura's Ninja Castle in Nintendo Land, since it needed to be gripped in the left hand only (right for left-handed players) as the right hand's fingers were required for swiping the Shuriken off the screen and towards the dastardly cardboard Ninjas on the main screen. Comfort did eventually set in, but there was always the fear of flinging the GamePad to the ground by accident when swishing quickly and not gripping properly. When asked about the standard Wii Remote strap, the Nintendo representatives simply said it was not required for a GamePad due to it not being swung around like a Wii Remote! I beg to differ...

In terms of the Wii U Pro Controller, it worked like a simple upgrade of the Wii's Classic Controller PRO, but was apparently still not in its final design format, so tweaks to the model tried could still occur prior to launch. At least Nintendo has managed to follow the trend of making it truly wireless and including a rechargeable battery inside this time round.
Karn Bianco, Special Guest Contributor
The Wii U GamePad is a very nice piece of kit. It's light, ergonomic, and quite attractive. It's also highly functional. The dual analogue sticks feel very similar to those featured on the Wii's Nunchuk device, and they are surely an improvement over the slide pads featured on last year's prototype. Fully 3D games (such as Batman: Arkham City or ZombiU) feel right at home on the GamePad; there's no awkward gameplay constraints, no niggling feeling that a more conventional controller would be the better choice.

The touch screen is responsive and also practical (thanks to the GamePad's low weight) to use with one hand while the other holds the controller. Multi-touch would have been decidedly less practical in most situations, so it's not a great loss. Swapping focus between the main screen and the GamePad conjures up feelings of Matrix-style "hacking" with multiple screens (maybe that's just us, your results may vary) and the multi-tasking aspect is quite enjoyable, even if it doesn't evoke an unequivocal "wow!" reaction.
As the GamePad is a fairly large device, its motion control support has mostly been confined to panning around scenes, wielding the controller like a camera (literally, in some cases). Panorama View is the most obvious example -- panning around recorded footage of the skies above Italy or the streets of London -- and it's a great demonstration, but it works best when you're standing up and can rotate around a full 360 degrees. Sitting down for a prolonged gaming session will limit the use of these interactions.

Despite the GamePad's versatility, some games just work best with a more conventional controller. Enter the Wii U Pro Controller. Looking strikingly similar to the Xbox 360 pad (or, indeed, any dual analogue controller) the Pro Controller comes with all the usual trimmings: dual analogue sticks, a D-Pad, four face buttons, and two pairs of shoulder buttons, and so on. The controller's two main changes are the ones that require the most getting used to: having the right analogue stick above the face buttons, and having the A and B buttons "reversed."
Reaching down from the right analogue stick to get to the face buttons feels "okay" -- there's really nowhere else for your thumb to go anyway -- but it will take some getting used to. Having to press the B button to progress through menus is far more disconcerting, but again, it's sure to be something that will come naturally with some practise. Everything else about the Pro Controller feels pretty good: good analogue sticks, responsive shoulder buttons/triggers, and a seemingly decent D-Pad. It's a nice companion to the GamePad.
Calum Peak, Alternative Content Editor
Nintendo has nearly always had comfortable ergonomic controllers, from the weirdness that was the N64, to the comfort and the well positioned face buttons of the GameCube. Alongside this it has always been at the forefront of control innovation; the D-pad that changed the way we interacted with our games, and again with the analogue stick that added full 360 degree motion and made controlling 3D games a charm. We've had an extra screen thrown onto our handhelds, which mixed touch screen gameplay and motion control courtesy of the Wii Remote. Therefore, how does the larger GamePad stack up on the Wii U? As expected from Nintendo, not too badly at all.

The main thing that everyone is concerned about is the size of the device and, with that, the weight. To my surprise, it wasn't that much wider than a standard DVD case; pick one up and hold it in your hand and imagine the face buttons just outside that area -- not too bad. Likewise, the weight of the device wasn't too bad either, though I did notice at the event that it did become a bit cumbersome whilst standing up as you didn't feel comfortable letting it drop below your waist to play and had to be held like a dinner tray. It's definitely a controller that is more usable sat down, and probably easier on the neck too throwing the extra screen into the mix.
Yes, the screen that is the 'major USP' on the device, and yes, I'll keep inverting my commas until I see something substantial that truly benefits gameplay. Enough of my cynicism, though -- the screen. The controller boasts an impressively sized screen at 6.2 inches, which puts it slap-bang between my phone's 4.8" and the iPad's 9.7". It does, unfortunately, lack the sharpness that those devices have due to a considerably lower resolution at 480p, but it's completely acceptable and the colours are crisp and vibrant -- who knows what that could do to battery life otherwise. There were a couple of points that I noticed about the screen that I didn't like, the first one being the brightness. This could have just been a settings issue, but on the units that I tried, the screen looked slightly dull and was missing the brightness for the visuals to pop. The second was the touch-ability. Why oh why Nintendo didn't put a capacitive screen into this? It's 2012. If we're meant to act with our fingers more in games then it needs to be as responsive as possible, even base line smart phones have this technology now and it's not even something that you can bring in the stylus argument about, you can use capacitive styli at not much cost. This was my biggest gripe playing Trine 2 as the Wizard; you need to draw shapes on screen to create bridges and blocks and I failed a lot of the time because the screen failed to recognise the input with my finger and the screen seemed to catch it awkwardly so it didn't feel as smooth as it should have, which is something that could be solved with polished solid plastic or gorilla glass.

Control-wise this has come on leaps and bounds since last year's E3. Analogue sticks have replaced the slide-pad, increasing control (though the tension could be slightly higher, but that's preference) and for the first time in Nintendo history adding extra buttons under them (R/L 3 if you were playing PS3). Gone are the octagonal incremented notches -- I'm still not sure myself whether that is good or not -- definite directional control VS smoother operation -- we've had it like this for the past generation on competitor consoles, though, so I didn't really have an issue with it, however. Adapt. The aforementioned word is certainly critical in the placement of the Wii U's face buttons, below the right analogue stick. *Sharp intake of breath* 'Whatever were they thinking??" When you hold the controller, however, it does make much more sense as you aren't holding an ergonomic controller but what is more aptly described as a pudgy DVD case, indenting the analogue stick in and the buttons above would just be uncomfortable. As they are, they are nicely placed but will still take some getting used to. Though developers need to properly assign buttons instead of mapping 360 buttons over Wii U's (where B is A and A is B), holding B to run in Batman is just plain wrong. The D-pad is nice and large and mimics that of the 3DS's responsiveness -- I can see plenty of fighters finding a nice home here, both players and games alike. The only uncomfortable part of the controller I found were the top shoulder buttons; the L and R triggers sit nicely under your fingers but you have to arch your fingers around the edge of the device to hit the others and it doesn't feel as fluid as it should. Whilst not major, it's worth noting that the black controller looks considerably nicer as the face isn't interrupted by the black camera panel that houses an extra sensor bar for the Wii Remote as is on the white version.
The Wii U Controller Pro felt exactly like it should do; it removes any of the issues that might be had with the GamePad itself, lack of screen, well placed buttons on the shoulders. If anything, it may be a tad on the small size but it was comfortable overall and pretty much built for the Third Parties and games that require less distractions such as the Smash Bros. series.
Aaron Elias, Previews Editor
I was pleasantly surprised to feel how light the GamePad was upon first getting to grips with it, as well as how comfortably it fit into my hands. I was thankful that Nintendo hadn't gone the way of some of their past handhelds and incorporated clicky face buttons, but I did immediately notice that the ZL and ZR triggers were not analogue. This shouldn't prove to be a problem, ultimately, but it is strange that Nintendo decided to finally introduce clickable control sticks, yet make the shoulder buttons digital.

The touch screen itself was crystal clear, and upon playing games such as New Super Mario Bros. U, I found that, at times, the image portrayed to the GamePad looked even better than it did on the TV. Never once did the thought cross my mind that the touch controls were unresponsive; whatever was touched on the GamePad was emulated instantaneously on the big screen.

The necessity to stand to play the game demos at the event meant continuously looking down at the action on the GamePad, which resulted in a stiff neck after not very long. Naturally, to be sitting down comfortably on a sofa would reduce this problem. However, it has to be said that, while the pad is light to hold in both hands, using one hand to hold it whilst the other swiped at the touch screen did make for some aching in the holding hand. As the assist player in New Super Mario Bros. U, holding the left side of the GamePad in my left hand quickly became very uncomfortable, and trying to shift and hold it more in the middle proved a little difficult. The same could be said when playing Takamura's Ninja Castle in Nintendo Land or Arrow in Game & Wario, as holding it on its side like a book as the other hand swiped quickly got a little aggravating. Sitting down with something to lean on should alleviate these problems more so.
Those are small details that cannot really be helped, though, with the overriding feeling of the GamePad being very positive.

The more traditional Wii U Pro Controller was very comfortable, too, as expected. Again, the lack of analogue triggers was instantly apparent, as was the position of the right control stick and face buttons. It felt rather unnatural trying to play with the Pro Controller with the ABXY buttons all the way down there. I didn't think it would be much of a big deal to begin with, but having become so used to the right control stick being further down on other controllers, it took a fair bit of time to get used to the layout. My attempts to hit the Y button, which is the further left face button, repeatedly went amiss, and I needed to stretch that little bit further to hit it. Obviously, this is simply something that players would get used to, though, since it's not a set up we are familiar with. I did also notice how the B button was the confirmation button in games like ZombiU, so whether this gets changed will remain to be seen. The controller serves its purpose perfectly, anyway, so hopefully ports and traditional controller-based games will be more frequent on the Wii U because of it.
The Wii U GamePad and Pro Controller have potential to change the way we interact with the TV set and multiplayer environment, but can the new technology stand the test of time and those all-night gaming sessions? We shall see when Nintendo launches its sixth home console later this year.