Who likes technology? Who likes Gadgets? Good, well you've come to right place. Welcome to Cubed3's first edition of Tech Up! Featuring some of the hottest devices to hit over the last year that have grabbed consumers' and gamers' attention alike, it's an all singing, all dancing summary. Alternative Content Editor Calum Peak takes a bold look at Sony's PS Vita, clicks away with the Razer Blackwidow and becomes astounded by the clarity of the Siberia V2s. Google's Nexus 7 is also taken for a hearty spin. Take the plunge with into this gadgetry special.
Google Nexus 7 (Tablet)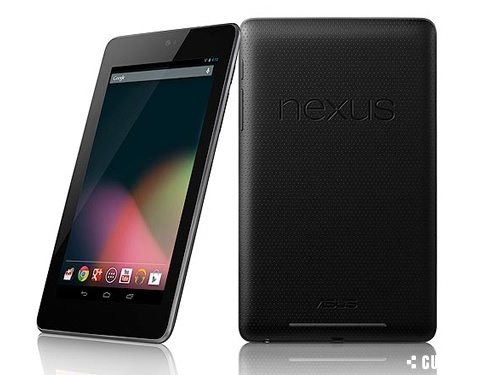 As far as tablets are concerned, the industry is dominated by Apple's iPad and near enough nothing else. Android has stabbed at the market with the Motorola Xoom and Asus Transformers and others willing to adopt the OS. Similarly, Amazon's Kindle Fire had a little success but was eclipsed by the Apple behemoth. It now appears that Google has got its act together and worked hand-in-hand with ASUS to bring to the market the Nexus 7, a 7" media consumption tablet running their latest OS 'Jelly Bean' (Android 4.1) and priced at a cool £150-200 (8GB and 16GB respectively). So how does it hold up? Well, this could be one very successful tablet…
Design-wise this thing looks brilliant, featuring uninterrupted edge-to-edge glass with a swish black bevel-edge with a matte plastic silver lining; this doesn't look out of place with even the most modern of technology. The face is clean with no distractions; only a small camera cut out on the top of the screen breaks the seamless. Likewise, the edges are tapered off making it easy to pick up with a lock switch and volume rocker on the upper right-hand side and a four-pin dock connector on the left side for horizontal use. The bottom edge consists of a European standard micro USB port (same cable that comes with pretty much any phone or device) and a 3mm headphone jack. The back of the device is also as appealing as the front; covered by a pockmarked soft touch black plastic that doesn't feel too dissimilar to leather that keeps the device securely in your hand. A volume slot that produces clear audio and doubles as a vent for anything intensive and the standard sunken logos of 'Nexus' and 'Asus.' It's a very clean looking device all round and the perfect device that for chucking into a bag comfortably without it weigh you down like some Apple products.
What really makes this device tick, however, is the software. The Nexus 7 is quick -- blazingly so. Once the device is booted up (around 30 seconds), loading and flicking through applications happens instantaneously and without any hesitation, courtesy of Google's 'Project Butter.' During the testing process, no slowdown was ever encountered, even when quickly switching between open applications. The device comes bundled with the standard Google applications and little else. No 'bloatware,' no annoying adverts; just the standard Google experience. However, the deal is sweetened by providing £15 of Google Play store credit, Transformers: Dark of The Moon, and a few books already tied to your account for you to jump in and see what the device is about; a complete Internet experience. This is one of the reasons why storage is fairly low, but there would only really be an issue with the 8GB version if it was being filled with an entire personal music and film library, something that isn't particularly necessary since the device is perfectly adept at dealing with SoundCloud, Last FM, Spotify and Netflix. It's important to note, though, that Adobe pulled Flash support on Jelly Bean so applications such as BBC iPlayer are not working at present but should hopefully be addressed soon.
As a consumption device this thing ticks all the boxes; pixel density on screen is high (1280x800) meaning text and video playback is clear and sharp, and the size makes it nice to hold in hand -- it's not much bigger than Amazon's Kindle. Websites can be viewed in full, and there is little need for pinching and zooming in landscape mode as Chrome automatically pops out a box if two things close together have been selected together, providing seamless browsing. Playing games on the Nexus 7 is also a really nice experience. Powered by Nvidia's Tegra 3 chip, no game struggled at all, even turning on more details in titles such as Dead Trigger; the device doesn't stutter or lag. Touch interface games are fast and fluid, and it really feels like this was what 2D Boy's World of Goo was meant to be played on. Also, emulators, emulators everywhere! The Tegra 3 chip provides some other advantages, such as improved battery life. Featuring four high powered cores and a low powered one that switch when things get intensive, the Nexus 7 can seemingly just keep going and going. A full two days use out of the device with gaming, reading, YouTube, browsing and Wi-Fi on constantly, even leaving it on overnight, was experienced. Google quotes ten hours of constant use, and it near enough delivers on that promise.
Sure, the Nexus 7 doesn't have a 3G connection (though there have been rumours), and no, there isn't an SD slot to expand memory if the device has been filled with apps, movies and music -- but Google is pushing for an online experience here, so owners shouldn't need to fill it up -- that's the point. As for the lack of 3G, most people have Smartphones these days regardless, and in particular Android devices have a Wi-Fi tethering function built-in, so you can happily sit on the bus browsing to your heart's content. However, who really cares when you are getting a device this good for a price point so low? For what it offers, the Google Nexus 7 is as damn near perfect as people are likely to get.

FINAL SCORE: 9/10 (Tech Up! Approved)
Sony PS Vita
"A console is only as good as the software that's on it" -- a very true statement indeed, but looking at the PS Vita, one can't help but wonder how accurate that is. Right off the bat its clear the level of design work that went into this -- it's sturdy as hell with the looks to boot. Expanding on the form factor of the PSP (why fix what isn't broken?), the Vita is dominated by an impressively sharp 5" 220ppi (pixels per inch) OLED display that is visible in almost all viewing conditions despite the reflective housing. Chaperoned around this are the standard Sony D-pad and face buttons alongside the pièce de résistance, two redesigned analogue sticks that knock the socks of the old ones and give the slide pad a run for its money. As a whole, the console sits in the hand very nicely, its contoured edges providing comfort for hours of extended play -- something that couldn't be said of the 3DS with its angular corners, although the XL rectifies this heavily. Both the back and the front of the console are touch sensitive that is like having a second screen on the device and adds extra control functionality to games -- the back panel is also pressure sensitive, adding to the SIXAXIS sensor already built-in.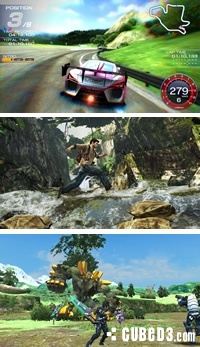 The built-in software is also very simple, allowing owners to multi-task easily between games and lesser programmes, such as trophies, friend lists and the camera (which isn't the best in the world, at only 0.3MP), and it flows effortlessly. If there is one gripe, it's that the software on it is far too segmented -- there's a separate app for the PSN store, trophies and the friends list, which seems unnecessary. Where it shines through is in its ability to handle games; the console is a power house! It's practically a PS3 in the palm of your hand. The battery life also puts icing on the cake with it lasting around the same as the 3DS, but on standby completely outstrips it in terms of power management compared to its 3D competitor -- perfect for picking up at random intervals and playing. The game cards are a little on the small side, however, and why Sony went with proprietary memory cards is completely beyond me (money obviously) as they are seriously overpriced.
With a solid launch line-up of First and Third Party titles, with more trickling through in the coming months, and a very sweet bit of hardware, it's difficult not to like the PS Vita. Alas, there is no score to give, and only time will tell how successful this piece of kit is -- but it's good, if not brilliant.
SteelSeries Siberia V2 (PC/Generic)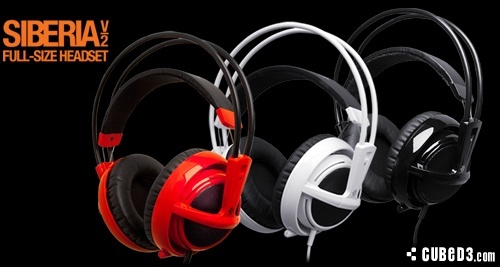 A decent headset is always difficult to come by and there are often heavy sacrifices to make over audio clarity, longevity, talk back functionality, and the mother of all evils -- price. SteelSeries may have the answer to your problems. A well-respected company in the competitive world (being sponsors to Fnatic, eSuba and others), it focuses mainly on PC peripherals but has expanded to include other platforms in its jurisdiction. How do the Siberia V2s stack up? Quite brilliantly…
Out of the box it is noticeable just how light this headset is, with it barely weighing anything, and when put it on, it can hardly be felt. This is due to how the headset actually sits on your head; it has two head bands, an overall one that holds the cans in place, and another adjustable band on cables that automatically fits to your cranium giving a feeling of weightlessness. Add this in with the soft leather memory foam cups and you have can have a blast for hours on end without heat build courtesy of the vents, even for glasses wearers such as myself. Despite the light construction, the V2s are seriously sturdy - there are no worries about dropping them and they might be forgotten when wearing them and getting up from the table…Is it possible to turn 'lightness' into a negative?
Whilst this is a wired headset it comes with plenty of cabling (unfortunately not braided, which helps against tangles), and it has a connection that will quite comfortably serve if using an MP3 player in a pocket, but SteelSeries provides a two-metre extension (three metres in total) that is more than enough to move around in the general proximity of a desk or reaching the TV from the couch, plus an adaptor can also be purchased for using the microphone with an Xbox controller.
The V2s don't lack for punch either, featuring two 50mm driver units (18-28Hz, 32Ohm) that provide really clear audio for the high, mids and lows. Bullets ping satisfyingly, positional awareness is heightened and the bass rumbles distinctly, although they can be a little sloppy at times. The only issue with the closed set found is that audio bleeds out to the outside environment a fair bit, and if nothing is playing, external noise has a seashell-to-ear quality about it -- but it's acceptable. Just make sure that listening to something embarrassing is not done with friends around! There is also an extendable microphone that pulls smoothly out of the left ear cup and can be bent any which way, plus it's also extremely clear on the receiving end -- much better than the original's clip-on lapel microphone.
Oh, and extremely importantly, the SteelSeries Siberia V2 only costs £60, so you're not likely to find quality in this price range from anywhere else.

FINAL SCORE: 9/10 (Tech Up! Approved)
Razer BlackWidow Ultimate (PC)
Mechanical keyboards have been making a comeback as of late as people step away from the squishy membrane ones. Usually found on cash registers and considerably older keyboards such as the IBM model M, these boards feature individual switches under each key rather than a rubber membrane that is featured on most of today's boards. As a result, the lifespan is increased and they are considerably more responsive and tactile; perfect for typists and gamers alike. Enter the Razer BlackWidow Ultimate, featuring Cherry MX Blue switches with a 2mm actuation point, anti-ghosting and a few useful gaming features.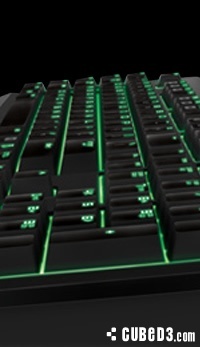 Like the rest of Razer's products, the BlackWidow is as slick as you like, catching the eye with a shiny black casing (which, of course, is a finger print magnet) and matte black rubberised keys that help with comfort and grip on the battlefield. Accentuating these features are the individually backlit blue keys that bring the keyboard to life. Pretty standard stuff from Razer; it isn't breaking formula here. Razer has jammed in five programmable keys along the right hand side for players to build macros (a string of button presses/commands attached to one key), which is perfect for the RTS player, and can be created without software. There is also the ability to disable the Windows key to stop games cascading back to the taskbar during ultra intense moments.
The feel of the keys are also satisfying; after a short adjustment period, typing speed had noticeably increased due to the fact that the key doesn't have to be depressed all the way and an audible and tactile 'click' is felt each time. Be wary, though, as this keyboard probably isn't the best to use with a room-mate or in an office, though Razer does offer a silent version of the board (Cherry MX Brown Switches) that have the tactile feel but without the volume level. Unfortunately, Razer products do tend to carry a bit of a premium price-tag, and the BlackWidow is no exception coming in at a wallet-shattering £120. Mechanical keyboards do tend to be expensive due to the added moving parts, so there are plenty to choose from in that price range, however, with ones that offer a wide range of designs, switches and sizes. All said and done, though, the BlackWidow Ultimate is a solid bit of high-end hardware that definitely deserves consideration.

FINAL SCORE: 8/10
Hopefully readers will have enjoyed this very first, special edition of Tech Up! Calum is eager to see what the future will bring and will no doubt return with more round-up goodness as soon as his next pay cheque clears!