The latest issue of US monthly magazine GameInformer has revealed a handful of details on new NintendoLand events.
The remaining series/franchise icons for attractions in this colourful themepark have previously been identified, yet just what they ential have been a mystery. The magazine detailed two of these as Metroid Blast and Balloon Trip Breeze.
Metroid Blast:
A shooting title where up to four players using Wii Remotes and a fifth on the GamePad take out all sorts of enemies from the iconic Metroid world. There'll be quite a bit of alien meat to this one, as free-for-all, team and horde modes will be included across several different maps.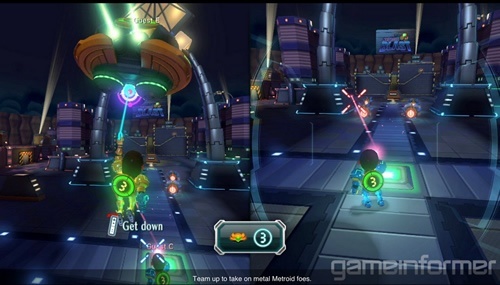 Balloon Trip Breeze:
Inspired by the classic NES game, this one's a side-scroller where players try to dodge all sorts of obstacles using the stylus. Queue electric spikes, crazy birds and hungry dish with the goal being to fly as far as possible without being popped.
Via NeoGaf
What do you think of these two new NintendoLand events?