AckkStudios has announced that it is now a licensed developer for Nintendo's next generation console, the Wii U. The team will be bringing their original adventure role-playing game, Two Brothers, to the console's online eShop next year. A more firm release date will be revealed some time in 2013.
In development for Xbox 360, PC, OSX, Linux and now, of course, Wii U, Two Brothers was funded through Kickstarter, and raised $16,257 over the intended goal of $6,000. Its gameplay takes a lot of inspiration in particular from Nintendo's The Legend of Zelda series and Square's Secret of Mana. The visuals are a throwback to the time of the Game Boy, but without the technological limitations that the system had back then, and will also be presented in HD.

Two Brothers' graphical style actually plays into the game's storyline. Players take the role of a young inventor named Roy Guarder, who makes it his aim to find a new colour after witnessing an afterlife of colour during a near-death experience. Rory's brother Bivare, who is an inventor and explorer, also, partners him and the two set off on their quest.
In addition to Two Brothers, AckkStudios is hard at work on "an ambitious modern 3D RPG." The developers will be at PAX East in March next year to reveal the game, but no platforms have been decided, despite Wii U being a strong possibility. The team is still deciding if it should be a Wii U exclusive, multiplatform, or something else. Earthbound and The World Ends with You have apparently had an influence on the graphics style for the 3D RPG, which is now in a playable form.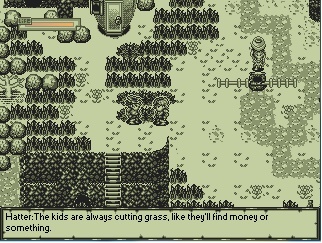 Do make sure to check the images gallery for more screen shots and art from Two Brothers, and stick with Cubed3 for further updates on both that game and AckkStudios' 3D RPG.