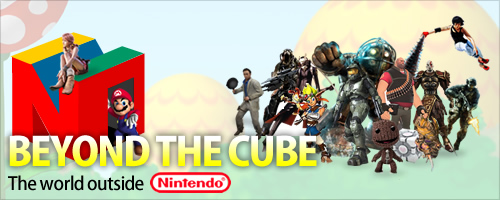 Cubed3's ever popular Beyond the Cube series is back in full flow, focusing on individual reviews of a variety of games from the world outside of Nintendo. After a closer look at
Sleeping Dogs
,
NHL 13
, and
Darksiders II,
now it is time to see one intriguing new release on iOS formats. Read on for the next foray into something beyond the cube…
Sonic Jump (iPad, iPhone, iPod Touch)
Sonic the Hedgehog, SEGA's ever recognisable mascot and former major competitor to Nintendo's own Mario back in the days when the company also released hardware, has yet to really impart his presence on the mobile scene in anything exclusive. However, now the speedy 'hog stars in his very own title, doing what he does best. Well, make that 'second best' since Sonic Jump is not all about dashing hither and thither, instead focusing on some addictive jumping action thanks to the motion capabilities of iOS devices.
 

Lord of the Rings
Sonic has always been about rings, shiny golden loops of joy that act as his health, losing everything when colliding with certain obstacles or enemies, and then parting with a life upon a second subsequent strike. Nothing has changed for Sonic Jump, with the spiky protagonist clamouring up all manner of platforms to reach the summit and foil the plans of the nefarious Dr. Eggman (how we miss the 'Robotnik' name). The more rings garnered, the more goodies can be grabbed, in the form of new characters to play as, extra power-ups, and more. With 36 levels to work though in the 'Story' mode and an 'Arcade' element where it is a case of keep jumping and jumping until a mistake is made, the basic theme could start to wear thin very quickly. However, the amount of twists and turns mixed into the gameplay formula make this one of those basic, but insanely addictive, end products.
 

Bounce!
The best Sonics are admittedly those that resist the urge to overcomplicate matters, and Sonic Jump definitely holds back from throwing too many ideas at the board to see what sticks. However, saying that, it does not lack for inventiveness, with numerous collectibles strewn around the stages that prove to be extremely awkward to obtain as players tilt the mobile handset left and right to alter the tangent at which Sonic automatically jumps. His flight can be aided by a secondary tap on the screen to launch him upwards once more to reach higher than normal platforms, but this also acts as a useful way of dodging the many hazards along the way. Sonic Jump is deemed an example of the Vertical Platform genre, in which games such as Heights, Chimpact, and Doodle Jump feature, but does not rush the player to the top of the stages and is not as chaotic as the slightly similar-veined Vertical Shooter category. Sure, being against the clock does add some urgency, but there are more rewards for being meticulous in the collection of paraphernalia dotted around.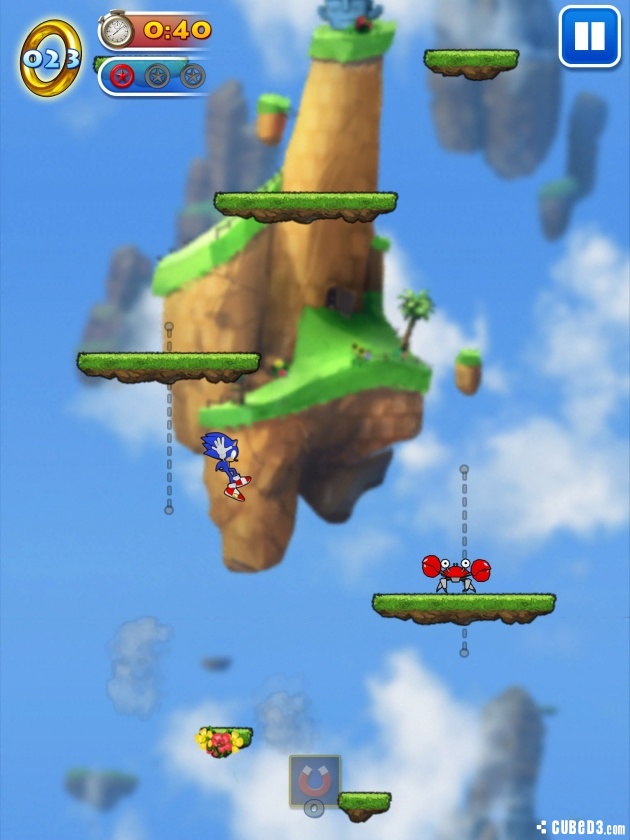 When jumping upwards, should Sonic drop back down onto a platform everything is fine as he continuously bounces up and down until progress is made when landing on an alternative route, yet should the camera move far enough up to move any previous platforms out of sight at the bottom of the screen, Sonic merely falls to his doom and the level must be restarted. More often than not this happens as a result of bashing into robotic enemies crawling around on other ledges, nudging into wasps floating about, platforms that disappear after one touch, or merely catching poor Sonic on some protruding spikes and getting clobbered by falling boulders. Timing and patience are everything, with it actually sometimes proving better to just remain in one spot for a short time before making further headway north through the likes of popular zones like Green Hill, Mountain, and Jungle. It is the virtues of perseverance and resolve that lead to achievements being successfully obtained, and Sonic being levelled up to open up more of the game. With heaps of difficulty to ensure this is not breezed through in a couple of hours or less, Sonic Jump is definitely a great addition to anyone's library.
Beyond the Cube's Final Thoughts
Whilst Sonic Jump is not the sort of in-depth adventure or highly intense platform romp that many gamers would expect from SEGA, its much lower price is perfectly fitting of the bite-sized, twitch reaction action at hand, and proves to be highly addictive. SEGA has taken a niche idea and developed it into something that the mainstream will be more accepting of, and it should definitely be something to consider picking up for passing time on short bus and train journeys, especially at the low price of £1.49 on iTunes. It is also the type of game that would certainly be suited and welcomed on either the 3DS or Wii U eShop in the future.