Nintendo has outlined some of the extra modes and features available in the Wii U version of Mario's popular 2D platform series.
In an email blast today, the UK arm detailed some of the extra features included in New Super Mario Bros. U  that help add an extra layer of depth for those accustomed to the games on the Wii/DS.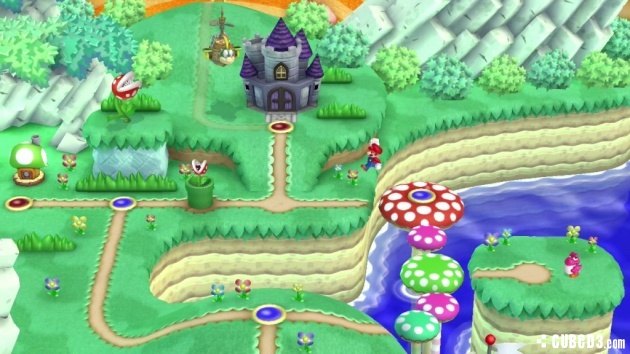 Challenge Mode will test those reflexes and speed-running abilities with four single-player options: Time Attack, Coin Collection, 1-UP Rally and Special (specific challenges).
There'll also be a Boost Mode feature for two players - one using the GamePad and the other with a Wii Remote.
Nintendo also confirmed video replays - with the ability to save a performance after completing a challenge.

As well as co-operative play, Nintendo also outlined a competitive Coin Battle feature, where up to four players compete to see who can collect the most coins. A fifth, using the GamePad, can create and save coin layouts to be used in these specific courses.
Whilst playing through, a creature known as Nabbit will appear randomly on the world map - players must enter the course and catch this critter. Upon doing so, you'll be granted to a powerful P-Acorn to fly continuously through the stage.
Finally, Nintendo re-iterated the previously announced World Map feature - last seen in Super Mario World - that contains a seamless world map with named areas and courses. Many secret areas await!

See more screenshots in the New Super Mario Bros U album below.