Nintendo had Wii Sports to show off the initial motion controls of the Wii Remote, followed by Wii Sports Resort that successfully made use of the Wii Remote Plus extremely intuitive. In fact, even Wii Fit was a superb example of how best to make use of the Balance Board in games. However, with Wii U on the cusp of release around the world, many are still wondering how user-friendly the special GamePad will be, with hopes being pinned on Nintendo Land to explain matters. The team at Cubed3 sit down to look at the games included in this festival of all things Nintendo to see just how well it works.
Jorge Baoh, Managing Director
When Nintendo first revealed the bright lights and bustling world of Nintendo Land at E3 2012 I admit I was confused. The début of one of the biggest franchise mash-ups came at the end of the presentation proceedings, and there was certainly some uncertainty about just what this game is.
 
Would Nintendo Land be the play once, throwaway DVD of this forthcoming Wii U generation? Certainly not. At first glance, the concept looks like your standard mini-game affair with Nintendo themes and Mii spread on top, but sitting down and taking in the real vibrancy and depth of Nintendo Land you realise that this is something rather special indeed. The appeal of these iconic and some more obscure video game franchises is the lure into what Nintendo does best -- video game concepts that are well crafted and make sense with the controller in mind.
 
Wii Sports was the game that explained exactly what the Wii Remote did in a nutshell -- you swing, poke, point, swipe and the on-screen avatar does the same. Throw in a set of sports that everybody knows, add in Mii and out pops the perfect introductory package. Despite having single player appeal, Wii Sports was the game for multiplayer and is still a fallback game even five years on. However, Nintendo Land has a far trickier time getting the concept across, especially in advertising the GamePad.

A lot of what the game does well relies on the setup -- there should be a good three or four players around to get the gist of why the new controller is a game-changing device. The asymmetric gameplay does need to be tried to be fully appreciated and the range of attractions on offer cover a wide range of bases. Luigi's Ghost Mansion and Animal Crossing: Sweet Day are two of the more competitive examples. We have tried being the predator and the prey in these games; it's viciously addictive, but again needs to be played to be conveyed.
 
Team work is definitely key in these games and as you progress, the appeal for asymmetry comes into stronger focus. These could certainly evolve into their own standalone games or at least offer a fully-fleshed experience as multiplayer extras. Other team-based games include Zelda: Battle Quest and Metroid Blast -- the former being surprisingly deep despite being on-rails. Pump arrows into enemies, working co-operatively to get through the level. I failed several times, darn those pesky Moblins! Donkey Kong's Crash Course and Takamaru's Ninja Castle lead the single-player attractions, showing more sides to the controller; tilting and swiping to victory. Likewise, in Balloon Trip Breeze you get two different camera views to the traditional Balloon Fight gameplay.
 
Will Nintendo Land have the same impact as Wii Sports? Perhaps, but it certainly has a bigger hill to climb and a lot more to get across. There's plenty on offer here, especially now we've gotten an idea of the complete list of games -- a solid balance of single and multiplayer concepts to sink your teeth into. The Nintendo themes are just the icing on the cake.
 

Adam Riley, Operations Director
Anyone wanting to know more about the initial five mini-games shown off can read more about them in Cubed3's hands-on with Nintendo Land earlier this year. However, other than the impressive touch-screen Shuriken-shooting shenanigans Takamura's Ninja Castle, the Pac-Man Vs.-like Luigi's Ghost Mansion, the simultaneous two-character-control of Animal Crossing: Sweet Day on the GamePad, the team-work antics of The Legend of Zelda: Battle Quest, and the dastardly tough tilt trials of Donkey Kong: Crash Course, there are seven other main attractions to be found in what Nintendo hopes will be the entry-level product that sells the idea of Wii U to all and sundry.

The question is, are there equally as enjoyable as the first five selected for public viewing. In truth, watching many of these experiences in video format really does not do them justice in the slightest, as it is only when jumping into the crazy action. Metroid Blast has several map styles to play through, with one person on the GamePad controlling a spaceship and others in Samus Aran outfits running around treacherous landscapes, and the winner being the one to survive the longest. There is also an assault mission where up to five players can work through together to achieve objectives. It works in the same addictive way that Animal Crossing: Sweet Day does, with the right mix of one-upmanship and teamwork, making for yet another winner on the addiction front. Captain Falcon's Twister Race is an intriguing one since it brings what many would hope is a high-octane racing experience into the realm of family entertainment. Therefore, gone are the hard-hitting, edgy tunes, along with the breakneck pace of previous games, and in comes a slower, more newcomer-friendly futuristic experience that merely highlights the sensitivity of the GamePad perfectly, as seen in Donkey Kong: Crash Course, for dodging around the many obstacles littering the courses.
 
Mario Chase, which was seen as Chase Mii from E3 a while back, has the person holding the GamePad playing as Mario with the ultimate goal to avoid the other characters chasing around. The view on the GamePad is split into two, with a smaller view of the whole map and where the others are (all dressed as Toads), as well as a closer viewpoint so running around is easy enough. Mario Chase is a much simpler version of the Luigi's Mansion and Sweet Day, so acts as the perfect entry-level title for all-comers. The problem is that should this one be played one-on-one, trying to catch Mario becomes almost impossible, and the action grows tiresome quickly. Pikmin Adventure is far more intriguing, bashing away at obstacles, using special items, and ultimately working through the stage as quickly as possible to beat the big boss and escape.

Balloon Trip Breeze: Float with the Wind! is a stylus-based mini-game where one player guides the little character with balloons on his back across from right-to-left, collecting items, dodging obstacles, taking out enemies, fighting against Mother Nature, and generally having patience and skill levels challenged on the way to the end of level 'Goal.' As with Crash Course, this is certainly a strong test of an individual's ability. Octopus Dance is based on the old Game & Watch title, but this time works in an almost Just Dance fashion with the motion ability of the GamePad used to mimic on-screen dance moves. Finally, Yoshi's Fruit Cart is actually a great way of using both GamePad and TV screen in tandem, with numbered fruit and death-traps littered around the field shown on the television. However, the touch screen is where Yoshi's path must be drawn out, á la Yoshi Touch & Go, with only a limited amount of drawing allowed and nothing shown on the GamePad other than the start and end positions. The fifty or so levels in this definitely make for some tough challenges!
 
Overall, Nintendo Land is certainly a mixed bag in terms of whether or not it manages to show off all the nuances of the new control scheme and interactivity between the GamePad and TV set. There are certainly some great examples of how to play one-against-four, clever use of the motion controls, and impressive dual-TV-and-GamePad play, so in that respect at least it does indeed offer a wide range of options for all players. Whether or not it proves to be equally as accessible as something like Wii Sports or Wii Sports Resort, though, is still a matter for debate. Undoubtedly, however, Nintendo Land looks to be a fantastic package.
 

Rudy Lavaux, Retro Editor
When Nintendo Land was first announced and shown, the word that summed up how I felt about it would be..."unimpressed." This hasn't changed much so far. Sure, it's a pleasure to see your Miis running around inside Nintendo-themed attractions, wearing Link or Samus outfits, at long last in glorious HD. However, beyond that, I have yet to see where the fun of it all lies. Bear in mind that, unlike most of the staff here, I have yet to try it out, which I doubt will be possible until the game is actually released.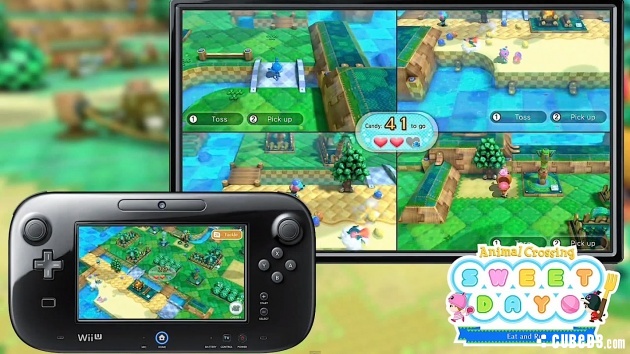 Most of the mini-games in it leave me with an impression of missed potential. Only a handful of them really caught my interest, such as the Metroid and F-Zero ones, because they actually well represent the type of gameplay of the original creations...sort of. The Metroid one bears an uncanny resemblance to the Battle Mii gameplay demo from E3 2011, which I quite liked at the time. The Animal Crossing one seems like a further development of the old Chase Mii demo, though, which was something that I could picture as really fun, if perhaps a bit repetitive and potentially boring in the long run.
 
Back to Nintendo Land in general; the Donkey Kong game? Seriously? It could have been themed after just about anything, and has nothing to do with Donkey Kong beyond the look of the field that sort of reminds of the general look of the arcade classic, with its levels made of red girders. I would have much preferred something more platform-oriented for that one. Take a look at the Luigi's Mansion game in Nintendo Land. That's more fitting of bearing the name of the series it's from. That's the issue I have with this game. Some of the attractions don't make sense to me and they look like they are just some generic mini-games with a Nintendo franchise slapped on top for kicks and giggles...or more like "for money."

I can see what Nintendo is trying to do, by trying to make a party game based on not only one of its franchises, but pretty much all of them, right from launch, to appeal to all the old fans out there. However, it just fails to appeal to the hardcore fan inside of me. It's a good thing that it comes bundled with the premium packages of the system (although right now I'm more tempted by the ZombiU premium bundle that apparently lacks Nintendo Land), because right now I want it for the couple mini-games that I really enjoyed seeing, but don't really want to pay for it at full price when most of the mini-games I've seen don't appeal to me at all. This might change once it's released and I can get my hands on it through some friends who would buy it and let me try it out though, but for now label me as a sceptical.
 

FINAL VERDICT
Clearly Nintendo Land is being lined up as a game similar in nature to Wii Play, with some circles absolutely loving how simplistic most of the mini-games are to just jump into alone or with up to four other friends. In the same breath, there are going to be many that are put off by how empty a lot of the experiences seem to be, despite the 'hardcore' solo modes thrown into the mix. The aim with Nintendo Land was seemingly to sell the Wii U's features to gamers, and in part it does that well thanks to the sheer range of mini-games on offer. However, it also fails to make the same instant connection as Wii Sports and Wii Fit. Whatever the case, though, Nintendo likely has a smash hit on its hands!