When Mistwalker was first formed back in 2004, there was such a massive rush of excitement due to the Father of Final Fantasy, Hironobu Sakaguchi, venturing out into the unknown, breaking free from the confines of Square Enix in order to spread his creative wings. The reality was that the company's first footsteps into the world of independence ended with mixed results. Fast-forward to 2012 and the development team's finest hour arrived with the advent of
The Last Story
. However, the path that led to this crowning glory on Nintendo's Wii was filled with what could be deemed as rough gems.
It all started with the now infamous Blue Dragon. Why the immediate negativity? Well, because it was one of those titles where the hype sucked everyone in, and after being spat back out there was a sticky, moist feeling that was most unpleasant. The big boys in the media that jumped on-board prior to release whipped Final Fantasy aficionados into a frenzy claiming it to be the killer app for Xbox 360 and the game that proved that Square Enix's immense support wasn't necessary in the slightest. Even the Japanese were drawn in by the overly-inflated positive reviews from the four-man strong panel in gaming bible Famitsu, helping Blue Dragon to become the biggest selling title on Microsoft's hardware for a long time, until its legs gave way and both Square Enix's Star Ocean: The Last Hope and Bandai Namco's Tales of Vesperia crept ahead by a few thousand units.
 
Fancy CGI cut-scenes, fuelled by artwork from Akira Toriyama -- of Dragon Ball, Chrono Trigger and Dragon Quest fame -- along with a stunning soundtrack from another ex-Square companion, Nobuo Uematsu, plus significant publishing weight from Microsoft ensured that despite its shallow nature, it forced its way into 'success' territory. Although not a complete disaster, the RPG developed in conjunction with Artoon (remember Blinx and Pinobee? Exactly…) was ultimately lacklustre.

A far better next step was on the cards, thankfully, with Lost Odyssey taking Mistwalker in a more positive direction, feeling more like a creation from the man behind the multi-million Final Fantasy series. Its dark outer core, the sinister undertones of the storyline, the sublime musical score (once again from Uematsu-san) and its similarity to the exemplary Final Fantasy VIII in several ways helped make for far deeper, thoroughly engaging experience throughout. Its delivery of a sombre mood mixed with some twisted humour was more in line with expectations from adoring fans, and helped the game onto far greater sales in Western markets than Blue Dragon.
This is possibly where Mistwalker dropped off the radar for many mainstream gaming folk, with the company's planned third Xbox 360 product, Cry-On co-developed with Cavia (Resident Evil: The Umbrella Chronicles and The Darkside Chronicles, Nier), being dropped after a prolonged case of development hell. In truth, some of Mistwalker's best efforts were actually off-the-radar, slipping onto the Nintendo DS with barely a whisper. One of its potentially biggest entities remained in Japan due to a publishing deal with Nintendo that meant the Home of Mario had the deciding vote on whether to translate the game for territories outside of its homeland or not (we all know the outcome now, especially those currently working through the fan-translated version).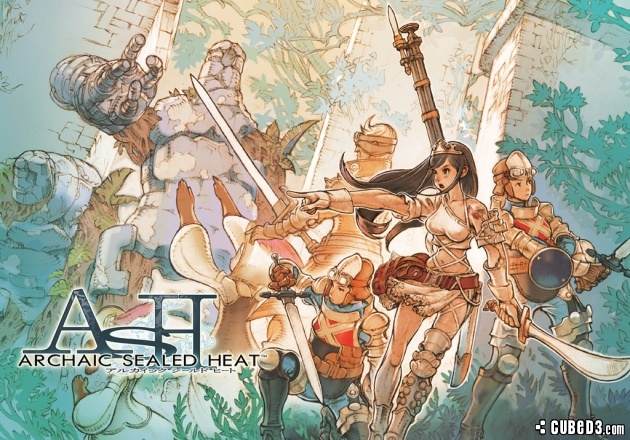 The Nintendo-published effort was none other than A.S.H.: Archaic Sealed Heat, a strategy RPG in the vein of Fire Emblem, Final Fantasy Tactics and Advance Wars and was worked on in tandem with Japanese developer Racjin, the group Square Enix entrusted the DS remakes of SaGa 2 and SaGa 3 with. Pushing the limits of the Nintendo DS more than ever, becoming the first to require a two gigabit game card back in 2007, it was packed to the brim with phenomenally rendered video sequences and came with a breath-taking soundtrack from Hitoshi Sakimoto, the genius that composed the magnificent scores for Breath of Fire: Dragon Quarter, Final Fantasy XII and Vagrant Story, to name but three classics. Some quarters criticised its slow battle pacing, whilst others lamented it for the overly high difficulty setting and lack of gripping story right from the start. With sales not too far off the lifetime bar set by Blue Dragon on Xbox 360, though, why Nintendo of America halted its planned translation, and even went as far as telling Third Party publishers to keep their hands off, will forever remain a mystery.
Moving on from that setback, 2008 saw two totally different portable delights appear, in the form of Blue Dragon Plus and AWAY: Shuffle Dungeon. The former was a collaborative effort with Nintendo-owned Brownie Brown and feelplus, the team that helped with Lost Odyssey. Rather than risk falling into the shadow of the Xbox 360 original by attempting to mimic its grandiose setting, Brownie Brown lifted the engine it had previously created for Square Enix's Real-Time Strategy RPG, Heroes of Mana, also on DS, and slotted in the familiar set of characters from the world. The result was quite the intriguing one, drawing in the Blue Dragon faithful and quickly disappointing them due to the gameplay changes made, yet not looking visually appealing or proving to be intuitive enough to garner the attention of die-hard RTS gamers that stick to their PCs like glue. If ever there was a hidden gem in Mistwalker's back catalogue, Blue Dragon Plus is it.

Honourable mention should go to AWAY: Shuffle Dungeon, though, with it featuring work from the co-creator of Sonic the Hedgehog, Naoto Oshima, and a unique-yet-unusual shuffling dungeon gameplay mechanic. Having to navigate dungeons spanning both Nintendo DS screens that switch and move around after a short space of time was indeed smart and rather inventive to boot, yet also ultimately proved to be confusing and a slightly over-used idea that wore thin quite quickly. On the whole it was charming, yet flawed, and totally ignored by the masses, despite hitting all regions, unlike A.S.H.
Finally, on the road to bringing the world one of the best Wii adventures in the form of the undeniably brilliant The Last Story, was 2010's third Blue Dragon and the second on Nintendo DS; Blue Dragon: Awakened Shadow. Ditching Artoon, feelplus and Brownie Brown, Mistwalker this time teamed with Namco Bandai's Tales Studio, as well as Eternal Sonata and Fragile: Farewell Ruins of the Moon's tri-Crescendo, for a more straight-laced Action RPG fare. Flying unfairly under the radar, it featured Dragon Quest IX-esque customisation features for building up the main character and impressive online functionality the likes of which would make Monster Hunter players jealous. Unfortunately, the brand name had lost its appeal after its debut, and this enjoyable adventure fell by the wayside.

Looking back, there is no doubting that Mistwalker has had its highs and lows on the road to The Last Story, but Hironobu Sakaguchi-san himself has stressed that the experience of working with so many development teams was a positive one. There were a vast amount of former Square Ltd. and Square Enix colleagues dotted around the groups Mistwalker collaborated with, and mixed in with the talented young upstarts with their fresh concepts, it gave Sakaguchi-san enough time and space to craft his true successor to Final Fantasy, the Wii RPG that has been lauded by all and sundry across the world and is without doubt one of the highlights of 2012, if not the entire current generation of systems.
Sadly there are no plans for
The Last Story II
right now, with Mistwalker taking time out to dabble in the iOS market. After the simplistic reaction-puzzle title,
Party Wave
, and the Tower Defence release,
Blade Guardian
, there are two other planned 'smaller' products due.
Sakaguchi-san told Cubed3
that if there were to be a sequel to
The Last Story
it would be interesting to take it in an 'all online' setting, similar to
Dragon Quest X
on Wii and Wii U, but anything can change in the mind of such genius. All that can be hoped is that the wait for another piece of pure superlative RPG goodness, in whatever form it may be, is not agonisingly long.