There's nothing quite like gently tearing through a factory-sealed wrapper of a brand new game, smelling the fresh moulded plastic and shuffling through a game manual with unrestrained excitement.
 
But of course there's nothing wrong with used games:  whether it's winning an online auction, discovering a find in a used-games store or simply borrowing one from a friend. For the consumer it's a win situation - a potentially cheaper price for what, in theory, should be the same experience if purchased new.

For the publisher on the other side of the coin, used games can be considered a loss in revenue though: granted a new player, but a loss from those who would purchase a new copy. It's more than fair that developers receive as much recompense as possible for each game sold, but with a growing RRP on newer games, up to £50/60 in Britain in some cases, used games can be a more appealing option.
 
The debate certainly isn't new but was nudged into the spotlight this week by an unearthed patent filed by Sony that involves a physical implementation with the used games market specifically in mind - to be "eliminated reliably".
...The users who have purchased the second-hand items are somehow no longer potential buyers of the content, the developers would lose their profits otherwise gained in the first place.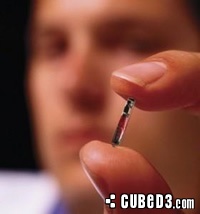 Whilst a patent filing could simply be an early precaution if Sony does decide to use it in some form eventually, the detail does pose a daunting future for the used and rental game market if it comes into effect.
 
The concept states that discs, presumably in the next PlayStation console, could be embedded with RFID chips to prevent use on more than one machine and "reliably restrict the use of electronic content dealt in the second-hand markets". To do this the console would save unique data onto these chips - like a hardware ID as a means of "user permission".
 
Effectively when playing a new game your console information could be encoded onto the disc, so it might not function completely, or even at all, on a friend or second owner's machine.

RFID chips are used in a wide and growing number of industries already including Passports, Bank Cards, microSD cards in mobile phones, animal tracking and even a trial run of uniforms in some British schools. It's wireless and uses electromagnetic fields to transfer data from a tagged object, in this case game discs, to a reader - the console.
 
The main reason for a physical chip would be to provide the ID allocation whether a user is internet enabled or not. The patent describes a situation where a player may decide to share his/her online password for a game with a friend and "therefore the second-hand sales and purchase cannot be eliminated reliably".

The finer detail isn't covered by the patent itself, just the key technical implementation, but a restriction like this would certainly cause a dent on two vital markets: used and rental games. Not everyone has funding to purchase new packaged software, especially those that might be out of print or had limited stock to begin with.
Likewise if a player tries out a new game for a matter of hours and doesn't wish to keep it, the return or resale value could be zilch, zero, nada.
 
Another angle could be a means of protecting publishers from piracy concerns as only genuine discs with a RFID chip would be able to run on a system. That said "second-hand markets" is still a primary highlight of the documentation.
 
Of course a patent like this may never come into effect or more likely come with some conditions for use.
 

For example a used game might require a new owner to purchase an "unlock key", in a similar means to the "online passes" employed by some publishers like EA Games and Ubisoft. These passes can only be used once and second hand users would need to purchase a new pass in order to use certain features. It still allows access to the core parts of the game, so resale/rental opportunities are possible, but the balance is there for publishers to recapture some of the lost revenue.
 
This may well be an over-reaction to a potentially dormant patent, but there is a growing shift towards publishers trying to minimise the used games market. If the ID process for game users becomes physical by use of RFID chips or other methods, it could fizzle out the used market to just older games in a matter of years, forcing users to potentially find cheaper digital deals online.
 
Of course developers and publishers should be supported, especially in an industry that's been in a flaky sales period. "Online passes" and similar schemes seem to be a reasonable balance between used and recouping revenue, but to phase out used games completely would do more harm than good.
What do you think about the potential use of RFID chips in retail game cds in future hardware - should gamers be free to resell/share their collection?