The world of tablet devices has changed considerably over such a short time, as tends to happen with technology in general, but long gone are the days where it was Apple's iPad or nothing. Many competitors popped up across the marketplace to offer smaller versions, which is why even Apple caved recently and brought out an iPad Mini. However, with Google's Nexus 7 and the Amazon Kindle Fire HD, what other smart devices should be considered as low cost alternatives? Well, Gemini is hoping to capture a slice of the consumer cash with its JoyTAB line. Cubed3 recently got the chance to try out the 7-inch, 8GB version that
retails for around £80
to see what the final verdict is on this pocket-friendly piece of kit.

Sleek design, clear screen, nice layout - until the JoyTAB is turned on and actually used properly it all seems wonderful. Reading all the Press details makes it sound too good to be true as well, which it actually is. Sadly, it becomes extremely apparent very early on that this device from Gemini is extremely subpar, with the capacitive screen not responding properly, menu changes hanging (more than Wii U ones!), and the device even locking up at times when trying to do several things at once. Simple message typing is a chore, having to either wait for the system to catch up for those that tap away quickly or even go back and edit pretty much most of what has been written because it gave up and skipped several of the characters pressed. The levels of frustration with the JoyTAB are through the roof and there were many times that the temptation to merely shove it back in its box and not even bother testing it further was overwhelming. However, people need to be warned not to buy this.

The multi-touch capabilities work just like other hardware of this nature, so the usual pinch-and-zoom approach can be taken for zooming into web pages, images, and so on. Access to the Play Store is the same as always, since this is based on the Google Android 4.1 Jelly Bean operating system, but downloading lots of applications can prove to be bothersome since the JoyTAB drops its connection to Wi-Fi routers far too easily. Whereas the Motorola Razr-i, Nokia Lumia 820 and the trusty old iPhone 3GS have no such issues in the same testing location, the JoyTAB Duo 7 struggled unless almost within direct sight of the router.

Want some technical details? Well, the Gem7020 model comes with the following:

CPU: ARM Cortex A9 Dual Core (iMAPx15)
[li]Memory: 1GB DDR3 Memory
[li]Storage: 8GB Built in, upgradeable to 32GB with Micro SD Card
[li]Display: 7 inch LCD - 1024x600 Pixels, Capacitive Multi-touch Screen
[li]Graphics: ARM Mali-400
[li]Connectivity: 1 Micro SD Slot (up to 32GB - TransFlash slot; not MiniSD or MicroSDHC), 1 x Mini USB (OTG), 1 x Stereo Earphone Slot
[li]Audio: Built-in 1W Speaker, Built-in Mic, 3.5mm Stereo Earphone Jack
[li]Video Supported: AVI, XVID, rm, rmvb, MKV, WMV, MOV, MP4, H.264, MPEG, DIVX, FLV.HD 1080P max.
[li]Music Supported: MP3, WMA, MP2, OGG, AAC, M4A, FLAC, 3GP, WAV
[li]Wireless Network: Wi-Fi 802.11b/g
[li]Gyroscope: Built in G sensor for gaming and automatic screen rotation
[li]Battery: 2800mAh
[li]OS: Google Android 4.1 (Jelly Bean)
[li]Camera: Front 0.3M (no rear)
[li]Internet Services: Web Browser, JAVA, YouTube, Email, HTML5, Adobe Flash
[li]Utilities: Calendar, Alarm Clock, Calculator, Recorder, Picture Viewer
[li]Dimensions: Width 192 x Height 124 x Depth 9 (mm)
[li]Weight: 276g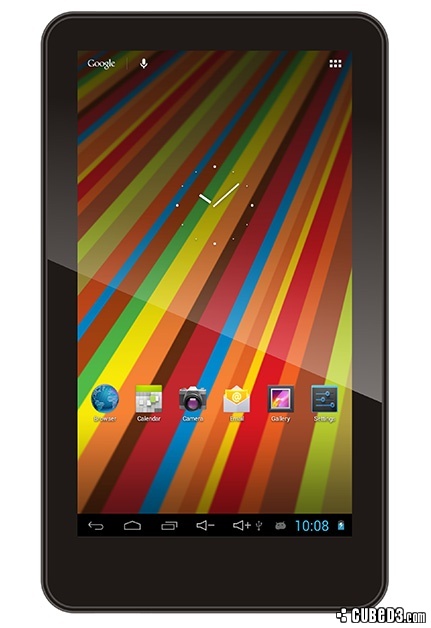 However, no matter what technical details are thrown at people and no matter how decent the price is, at the end of the day if the actual piece of hardware being bought does not function in the smoothest way possible, the majority of consumers that are likely to pick this up either for themselves or young ones will be quickly returning the JoyTAB to get a full refund and look elsewhere.
[score=4]Sadly, despite lofty promises, the Gemini JoyTAB proves to be a highly flawed and underwhelming piece of kit. Anyone that is looking for their first entry into the world of tablet PCs should definitely stick with something more reliable and intuitive to use, like the Google Nexus 7. The price might be slightly higher, but at least it is better to pay a little extra than be lured in by the weak promises of 'Flash support' and 'Runs Facebook, Skype, Twitter, Angry Birds, and More!' that Gemini's JoyTAB offers…