New details for Pokémon X & Y have surfaced from the latest issue of CoroCoro Magazine including four new Pokémon.
Translated by Serebii, these four new critters have been revealed as (in Japanese):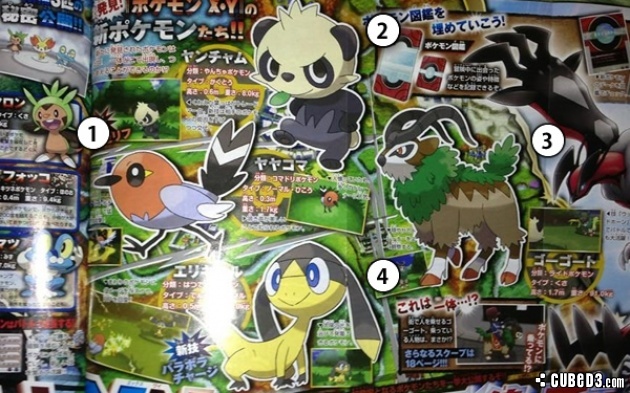 1) Yayakoma - Japanese Robin Pokémon that's normal/flying type. It has a "beautiful voice" and can use "Flame Charge".
2) Yancham has been called a "naughty" Pokémon. Classed as fighting type it can learn  a useful new move called "Parting Remark" that lowers the opponent's stats and forces a switch.
3) Gogoat is Grass-type, can be ridden across the overworld and is capable of learning Horn Leech.
4) Elikiteru is a new lizard that's electric/normal type and capable of learning a new move called Parabola Charge - it selfheals whilst damaging opponent.
Also reported in this issue is the ability to customise your trainer by tweaking their hair colour and skin shade for the first time.
The main hub/city has been translated as "Miare".


More Pokémon news is expected on the May 19th episode of Pokémon Smash.
What are your thoughts on these new Pokémon for Pokémon X and Y and customisable trainers?