Nintendo fans are in for a treat with the announcement of a spiritual successor to the GameCube classic
Eternal Darkness
, in development for Wii U and PC and lead by the creators of the original game.
The new project Shadow of the Eternals is pitched to be an episodic title that spans numerous interesting characters over many time periods. Discover the truth about the Eternals in this thrilling new project. The studio are currently seeking funding by their own project website and Kickstarter to further development and release the game independently.
Cubed3 spoke to Shawn Jackson, chief operating officer at Precursor Games, on Shadow of the Eternals and Wii U development.

Cubed3: Please introduce Precursor Games and your team.
Precursor Games is formed by a team of experienced game developers on the belief that with the advent of digital distribution, all types of games have the opportunity to thrive and succeed.  

Daven Bigelow: Forum Moderator
Paul Caporicci: Chief Executive Officer
Denis Dyack: Chief Creative Officer
Giancarlo Feltrin: Audio Director
Kevin Gordon: Art Chameleon
Phil Haymes: Forum Administrator/Moderator
Shawn Jackson: Chief Operating Officer
Ken McCulloch: Lore Keeper, World Builder, Dream Merchant
Sean Thompson: Tech Director
Aaron Unger: Community Manager


Cubed3: Kickstarter and other crowd-funding options seem to be the popular route these days - why Shadow of the Eternals?
Shawn Jackson: Precursor Games is a new company, built from the ground up, to create something different and create a type of game that is no longer being made these days. We are directly involving the community in the creation of content in Shadow of the Eternals so gamers can help create games they want to play!  Crowding-funding was the only way we felt we could do this as it would allow us to directly interact with the community in a meaningful way.
Cubed3: Please can you explain a bit more about the first episode in Shadow of the Eternals?
Shawn Jackson: The first episode introduces Paul Becker and the strange situation he finds himself in at the abandoned hospital and the first questioning of the only living witnesses/suspects. This questioning leads into Clara's story, in which she is being pressured by the authorities to find evidence to convict her mistress - the infamous Erzsébet Báthory, with whom Clara is deeply in love. Caught between fear and desire, she unwittingly begins a journey that will change her life forever; it's a love story that just happens to involve a serial killer and some interesting domestic issues arise that we believe gamers will find very fascinating.

Cubed3: The episodic approach is intriguing, why the decision to break up the story into smaller chunks?
Shawn Jackson: Since Shadow of the Eternals features the stories of many characters at different time periods, so it is naturally episodic.  This episodic structure allows for true interaction in the game development process as we can get feedback and content from the Order as we go and release more episodes.
Cubed3: Will there be direct links in-between episodes or will each be playable independently of their own?
Shawn Jackson: Both, actually.  Each episode is able to be played independently of any other; however, there are links from episode to episode, so the actions in a previous episode can certainly affect a later one. In fact, this is how we reveal our story throughout the ages.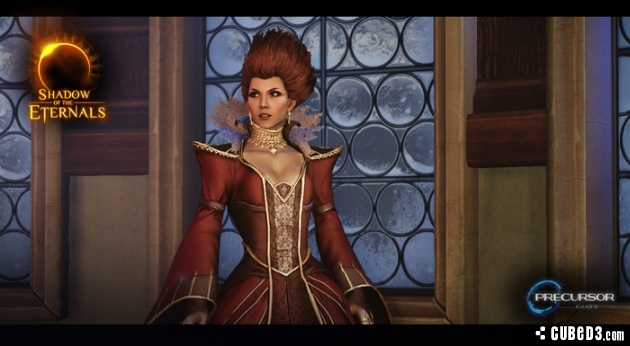 Cubed3: Will the classic and highly praised mechanics from Eternal Darkness return in some form, such as the Sanity Meter?
Shawn Jackson: We plan on doing things that involve sanity and other things that make the player question what is real.  
Cubed3: The early gameplay footage for Shadow of the Eternals we've seen so far looks brilliant already. Please can you share a bit more about the visual engine?
Shawn Jackson: Thank you, we are glad you like it.  We are using the CryEngine 3 we feel this is a great choice to bring our game to life.  We are currently supporting the Wii U system and the PC.  We plan to take full advantage of the Wii U hardware.

Cubed3: It's fantastic that you're supporting the Nintendo Wii U, why the decision to target Nintendo's new console specifically?
Shawn Jackson: Precursor Games has a great relationship with Nintendo, and we feel that the Wii U presents opportunities like no other platform to enhance the game.  We love Nintendo and support their platform!
Cubed3: How will you be using the Nintendo Wii U GamePad in Shadow of the Eternals?
Shawn Jackson: It is quite early in the development stages to tell (we wouldn't want to spoil anything), but we can assure you that we will utilize the GamePad in interesting ways specific to Shadow of the Eternals.

Cubed3: With PC and Nintendo Wii U on the cards, will Shadow of the Eternals be available on other platforms eventually?
Shawn Jackson: Yes, we hope so.  If we make our initial funding goal, we will reach to our community and see what other platforms they want supported and we will make appropriate stretch goals for them.
Cubed3: What's your experience working with Nintendo of today compared to Nintendo of the past - have things changed since the Silicon Knights days?
Shawn Jackson: Nintendo always has and been, and continues to be, a fantastic group of people who care about making great games.  They are very forward thinking and make some of the best games in the industry.  

Cubed3: A tricky question, but if Nintendo approached you to develop an enhanced remake of the original Eternal Darkness, would you be game?
Shawn Jackson: We are currently focused on Shadow of the Eternals and don't have much bandwidth to think about anything else.
Cubed3: Has Nintendo been involved with Shadow of the Eternals at all, if so what has it been like working with them once again?
Shawn Jackson: Nintendo has been very supportive of this project.

Cubed3: Will Alex Roivas or other characters from Eternal Darkness be making an appearance in some form?
Shawn Jackson: Anything is possible if we reach our initial funding goals and stretch goals…
Cubed3: Nintendo were once to release the Wii Vitality Sensor peripheral - if they were to, do you think it would be a good fit for Shadow of the Eternals?
Shawn Jackson: We embrace any Nintendo peripherals that present opportunities to break the fourth wall and enhance events in Shadow of the Eternals.
Cubed3: If you could work on absolutely any Nintendo franchise, even the likes of Super Mario Bros. and The Legend of Zelda, which would you love to tackle?
Shawn Jackson: The Legend of Zelda! ;)

Cubed3: Last, but not least, there was talk of an Eternal Darkness 2 project being cancelled. Can you shed any light on this?
Shawn Jackson: No sorry, we are here to talk about Precursor Games and Shadow of the Eternals.