Now some of may know, some of you may not know that Cubed3 is not all about Nintendo. There is Lights, Camera, Action, based on movies, Beyond the Cube that looks at the world outside of Nintendo, and Tech Up!, which brings information on the latest technology out there. On a recent Glass to the Wall, Cubed3 took the chance to review the HannsG 27-inch gaming monitor from Hannspree - the HL272HPB 27-inch HDMI LED monitor.

What is on show here is the HannsG 27-inch monitor - a fantastic new release from this company. Having used a previous Hanns product over the past 4-5 years - the 19-inch Hannspree with 1440x900 resolution, sturdy design, widescreen, industrial look, sharp edges, metallic screws around the outside edge, black in colour - it was one of the best Valentine's Day presents from my wife!

However, there comes a time in everyone's life when…they just need something BIGGER! 27-inches! Yes, it is something that is actually quite necessary for most people nowadays, especially us here at Cubed3 since there is a requirement for having numerous things open at once, spread around the screen. Whilst the idea of getting two monitors is quite cool, those without THAT much space on the desk will find that just one BIG screen is better. It is so impressive - even for those that are not always wowed by new technology. It's crystal clear, super bright, the colours are vibrant…and what more can you say about a monitor, really?

Well, it has various resolutions, going all the way up to 1920 x 1080 pixels, it's full HD, the aspect ratio is 16:9, it has a response time of five milliseconds, and has various interface types, so it is possible to plug in a HDMI/DVI/VGA cable.

Now, when it arrived it was quite a big box and one of the worst things is thinking that it will take so long to put together. It's a monitor, however, so simply put in the stand, stick in the power and PC cables, and that's it! An audio cable can also be plugged straight into the back of the monitor. This was an option used with the old Hannspree when hooked up to an old laptop with terrible speakers, but in fact that sounded louder and clearer than this HannsG because the speakers were on the front. Normally, nowadays, it isn't necessary to use a monitor's speakers, but, for the purposes of testing, an old iPhone 3GS was shoved in. With two 2-watt speakers embedded into the back compared to the two 1.1 watt speakers of the old Hannspree, it would be expected to sound better. However, the Hannspree speakers were on the front, so the sound resonated better. For most part, though, with home speakers it's unnecessary to use the audio function of the HannsG, yet it's a nice addition for those without. The only - minor - drawback and it stems only from those relying on the monitor alone for audio. Using it just as a PC monitor, though… well, who doesn't have speakers at home, seriously? Therefore, no real problem after all. If in that scenario, though, give some thought to how the monitor is positioned, because pushed against a wall muffles the sound slightly, meaning that despite the wattage of the speakers being higher, it sounds a bit quieter than the Hannspree 19-inch.

For those that like technical details: this is an LED backlit monitor, it displays 16.7 million colours, it can be wall-mounted but comes with its own stand as well - it can also tilt on its stand. Sadly the test unit is a little wobbly, perhaps being damaged a bit in transit (there is a dead pixel slap bang in the middle of the screen as well). In general, however, it can tilt in all directions, and users can mess around with it to their heart's desire. In terms of dimensions it's about 635mm wide, 215mm deep, 438mm high.
As for people that like the sales talk, this is what Hannspree says [adopts sales tone] "Looking for the ultimate display real estate for a truly immersive graphic experience? Look no further. The HL272HPB offers a whopping 27"/68.6cm screen and is the perfect High Definition host. Sporting a Full HD 1080p resolution, dynamic X-Contrast technology and HDMI connectivity to deliver true HD content from your arsenal of external gadgets, whether you are playing the latest blockbuster games and movies or enjoying demanding multimedia applications, the HL272HPB delivers breathtaking visuals. Thanks to LED technology the HL272HPB is also environmentally friendly and boasts a super slim, minimalist design. The HL272HPB has achieved an Energy Star Rating of 5.2."
What is extremely interesting is that last point about being very green. "Go green with the latest environmentally friendly LED technology." After all, many people are worried about saving the planet, making sure they have green technology, reducing the carbon footprint and all that jazz. "Prepare for the ultimate big screen High Definition visual experience! Get yourself a fabulous, centrepiece for your desk without breaking the bank"…and you certainly won't break the bank either because other 27-inch screens are usually quite expensive indeed! Places like Ebuyer have it for £194.99 and on that website, out of 91 reviews so far, it's achieved a 9.3/10 review score, so Cubed3 isn't alone in singing the praises of the HannsG monitor.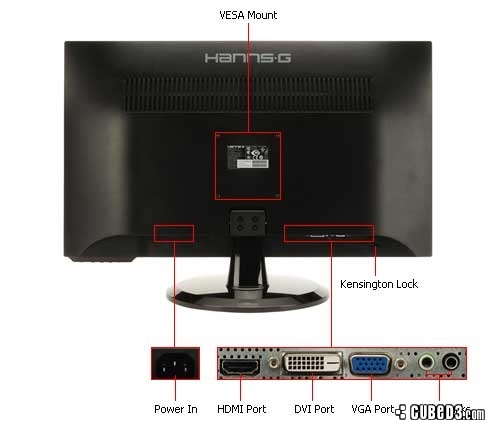 As said on Ebuyer:
"The low price and great quality of the HannsG HL272HPB 27 Inch HDMI LED PC monitor makes it one of the best deals around" - and that cannot be argued with. "The large display coupled with the vibrant colours HannsG are known for" - true because the Hannspree 19-inch monitor was always vibrant as well - "makes it ideal for working with design programmes, viewing pictures or even gaming." Now, talking of gaming, Cubed3 recently played the PC version of Bit.Trip presents Runner 2: Future Legend of Rhythm Alien and that's a very colourful game that benefitted from the HannsG - it just shone out of the screen; it popped out - the colours were just so bright it was dazzling. A few Hidden Object games, such as Angelica Weaver - Psychic Detective - Catch Me When You Can by GSP / Avanquest UK, were tried. On smaller screens it can be difficult to find things, but the Mumbo Jumbo-developed adventure-puzzle game looked so clear and so crisp that the experience itself was improved just by the visual acuity of it all, and, of course, the actual hidden object sections of the game were improved considerably because it made it much more intuitive to scour the different environments trying to find the numerous objects that were on the list. Therefore, gaming is great - box ticked - be it something high action and fast like Runner 2, or something slower, more methodical like Catch Me When You Can.
Now, eBuyer goes on to say: "If you're looking to multi-task, this monitor would also work well as a focal screen in a multi-monitor setup with other standard and widescreen LED TFT monitors." Now that's just being greedy, if being honest! Yes, if in the workplace and in need of many of these to work on design packages, such as AutoCAD or Microstation or even GIS packages, then okay yeah, perhaps it would indeed be useful, but for the purposes of most people on Cubed3, if they just want something at home to do their work and gaming on or even to stream TV and movies on, then just the one is required…and at around £200 that's sufficient!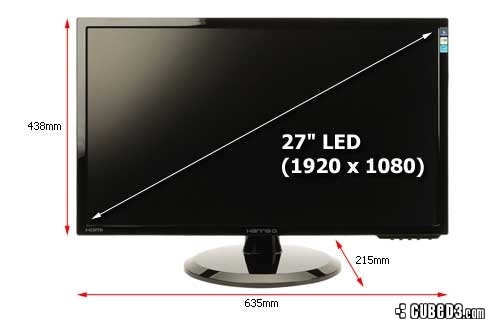 "You'll get a swift 5ms video response time which, when paired with beautiful colour rendering and anti-glare coating, makes for excellent video playback." That's another brilliant aspect, actually: watching a lot of LOVEFiLM Instant on the HannsG is just brilliant - for instance, viewing the latest episodes of Castle, the rapport between Richard Castle and Detective Kate Beckett is all the more engrossing on this fantastic new monitor, beaming out in crisp, clear, full HD - and on top of that, it's superb for movies!
"This dependable screen also gives you added peace of mind as it is covered for the next three years under the HannsG guarantee." This means people won't be wasting their money since if there are any problems, it's covered!
Tech Up! Final Thoughts
This is not a case of buying something cheap, watching as it breaks easily, and then being stuck with purchasing a replacement. It is top quality, will last a long time, give great results, and it's a bargain. Cubed3 is quite picky about what it uses, and there are honestly no regrets with getting this. Highly recommended! Buy it now from eBuyer, Misco or even through Amazon.