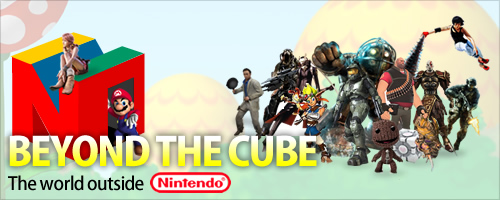 Runner 2

made a big splash early this year. It took

Bit.Trip

out of its pseudo-Atari retro visuals and into full-on 3D. It was quality through and through, from art to level design and

it was recommended highly

, by not only Cubed3 but most other review sites as well. In an attempt to fan the flames and keep attention high, Gaijin Games has created

Good Friends

, a DLC pack of characters from popular indie games (and also

Portal 2

).

A full list of the new characters and their respective games is as follows…

Josem - Machinarium
Spelunky Guy - Spelunky
Raz - Psychonauts
Dr. Fetus - Super Meat Boy
Quote - Cave Story
Atlas - Portal 2
Invisible Commander Video - Bit.Trip Runner
Each is lovingly crafted, well modelled and textured, with appropriately light hearted animations. Each character is also true to its source material; for instance, Atlas looks and runs exactly like Atlas, yet fits well within the world of Runner 2.
There are no special abilities, though. As with the original game, every character runs and jumps the same, which means they all play the same. One exception is Invisible Commander Video, who - as his name implies - is almost completely invisible. He is basically a faint outline and is very difficult to see. In effect, Invisible Commander Video is a sort of "master" level character for someone who wants a true challenge.

That's about all there is to say about Good Friends, in all honesty. It's well made for what it is, yet aside from the characters nothing else is brought with the package. There are no new levels or game modes. This is simply a case of buying new character models.
Beyond the Cube's Final Thoughts
Whilst unequivocally recommending Runner 2 as one of the best platform titles in recent memory on any system at any price, the Good Friends DLC very much depends on individual tastes. If a fan of the characters in the DLC, say Spelunky for instance, and all there is to do in Runner 2 has yet to be done, or if an excuse to boot up the game again is all that is required, it's not a bad deal. The cost is low and the quality of the new characters is high. However, the lack of new gameplay content leaves little reason for Runner 2 veterans to pick up Good Friends.