We spoke to Barnstorm games on the Pro Pinball revival, working with Nintendo and Kickstarter.
 
Cubed3 sat down with Adrian Barritt, head of development at the Studio, on working with Retro Studios on Metroid Prime Pinball, the ill-fated Super Mario Ball, plus plans for the future with Pro Pinball.
 
Cubed3: Please could you first of all provide our readers with some background information on FUSE Games and why it changed to Silverball?
 
Adrian Barritt: Silverball Studios was recently acquired by Barnstorm Games, a company run by Simon Jeffrey who was also a founder of Empire Interactive, who originally funded and published the Pro Pinball games.
 
Cubed3: What is your role there and how has the team has evolved since the days of Super Mario Ball and Metroid Prime Pinball?
 
Adrian: I am currently head of development at Barnstorm Games, overseeing the development of all our games. The team has grown and shrunk over the years, to give us flexibility, and these days we have a solid core team and outsource work when needed.
 


Cubed3: After working so hard on Super Mario Ball and stating an interest in the previous interview on Cubed3 for working on non-pinball projects, how did Metroid Prime Pinball come about?
 
Adrian: Nintendo came to us with the suggestion and we jumped at the opportunity. We thought it would be a great fit for pinball; hopefully the results speak for themselves.
 
Cubed3: Since Retro Studios brought the Metroid Prime series so far, was there a lot of pressure to carry on the trend, keeping the fan base content with Metroid Prime Pinball - Did you have any consultation with Retro at all?
 
Adrian:  Retro kindly supplied us with some assets, but we didn't have many direct dealings with them. Nintendo was our main point of contact.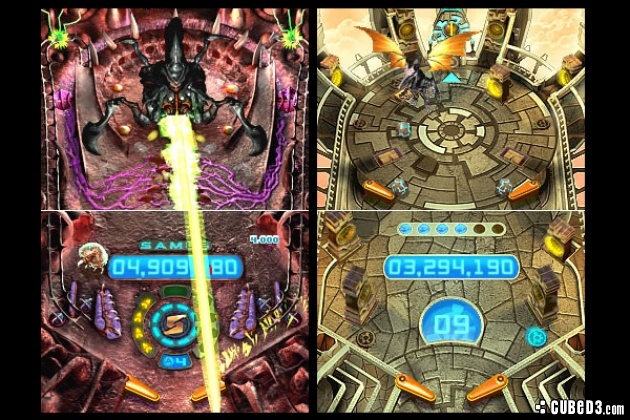 Cubed3: Looking at Super Mario Ball and the criticism it received from many corners, what do you feel went wrong with it? Were there many lessons learned as the team progressed from that to Metroid Prime Pinball and Pinball Pulse?
 
Adrian: To play Super Mario Ball well, you had to take the time to control the ball, which isn't easy for beginners to do. In hindsight we could've tweaked the physics to make them more beginner friendly. Metroid Prime Pinball definitely benefited from this experience.
 
Cubed3: Are there any other Nintendo characters that you think could easily make the leap to the pinball genre and would you be willing to jump onboard once again?
 
Adrian: We'd certainly be up for more pinball with Nintendo, though I think all the obvious characters have already been used. Doing a new Super Mario Ball for Wii U or 3DS would be a fantastic opportunity though!
 
Cubed3: Was Pinball Pulse a solo venture, or was it also done with support from Nintendo? How well has the game performed, especially since its re-launch on the Nintendo 3DS eShop, well enough to consider a follow-up?
 
Adrian: It was certainly done with support from input from Nintendo. As for sales I'm afraid that I can only comment on what is in the public domain. When it launched it was right at the top of the charts for a while, which was great.
 
Cubed3: Online support in pinball titles normally comes in the form of simple leader-boards, but what other ways do you think online could be implemented to make for a more fulfilling experience for the gamer?
 
Adrian: I think having specific challenges with friends is an area that could be explored further, for me it's always more interesting trying to beat friend's scores rather than anonymous strangers.
 
Cubed3: What sort of non-pinball games have you worked on recently, and are there ambitions within the team to expand your horizons even more?
 
Adrian: We've had some great success with some Mensa branded games, plus a TV Show adaptation in the UK for The Chase. We are also currently developing a really cool Evel Knievel game for iOS and Android, but we also hope to do a Nintendo 3DS version in the not too distant future.
 
Cubed3: Now that you have acquired the Pro Pinball license, has any consideration been given to putting some of the older games on the likes of Virtual Console?
 
Adrian: No, I'm afraid not. At the moment our focus is very much on pushing today's hardware to the limit and making the most realistic and fun pinball simulations possible.
 
Cubed3: Fans have been asking for new Pro Pinball games for years. Why did you choose to push forward with the idea now?
 
Adrian: It just felt like the time was right. Hardware has come along way in the last 15 years which is now at the point where we feel we can create a simulation that is almost indistinguishable from the real timing.
 
Cubed3: You've already reached more than 50% of your target in just a few days. How do you feel?
 
Adrian: It is a fantastic start and we are very grateful for the generous pledges. However, many Kickstarters have a surge at the beginning, only to plateau for some time so we aren't resting on our laurels and are doing everything we can to keep spreading the word, to make sure we hit our goal as soon as we can.
 


Cubed3: In what ways are you trying to promote the funding campaign, and are there other ways that the media can help promote your endeavour?
 
Adrian: One nice thing we did was put out a teaser App for iOS, Android, PC and Mac, that shows off the new visuals we've come up with. That has really helped to let people know about Pro Pinball. Unfortunately, it's hard to do such a thing on Nintendo platforms.
 
Cubed3: What are you planning to include in this resurrection of Pro Pinball to make it even more enticing than the originals?
 
Adrian: The two main things are a brand new lighting engine, which does a superb job of recreating the dynamic lighting you get in real pinball games, together with a completely re-written physics engine that takes advantage of the increased power that today's consoles, handhelds and PCs have.
 
Cubed3: Is online and multiplayer locked down for inclusion? Or even special bonus missions or boss fights on certain tables, like those included in Metroid Prime Pinball?
 
Adrian: There will definitely be online leaderboards and for Big Race USA there will be mode that lets players compete head-2-head at the same time. We hope to include some new surprise modes too.
 


Cubed3: Also, when Nintendo versions do appear, are we talking eShop releases or is there the possibility of a publisher snapping the games up for retail?
 
Adrian: We'll be talking eShop releases for sure.
 
Cubed3: Many have asked Cubed3 about why your team doesn't join forces with the Zen Pinball makers for an ultimate experience. Is this within the realms of possibility, or would be a case of 'too many cooks'?
 
Adrian: Zen's games are great, but they do have a different philosophy compared to ours, they're happy to take a less realistic approach, but Pro Pinball has always been about extreme realism, so I'm not sure collaboration would make sense.
 
Cubed3: Did you approach Nintendo directly to see if it would help support the new Pro Pinball venture? How is the working relationship with Nintendo in general?
Adrian: We still have a great relationship with Nintendo and often discuss potential collaborations. Most recently Nintendo introduced us to CollegeHumor who wanted a simple but fun game based on their BearShark videos.
 


Cubed3: Now that the lid has well and truly been lifted on Wii U, how do you see Nintendo faring in the next generation race against the strong competition from Sony and Microsoft?
 
Adrian: I think Nintendo have their work cut out at the moment. However, they have an ace in the hole; the loads of top quality exclusive games, such as Pikmin 3 that you simply can't play any other way, so although it might be a struggle Nintendo I'm sure, will be around for many years to come, continually innovating.
 
Cubed3: Finally, what games in general have caught you attention lately?
 
Adrian: It's very rare that I buy physical media these days, but the latest Fire Emblem was too good to pass up, great stuff. I'm also enjoying Ghost Trick, I missed it when it first game out, but am thoroughly enjoying it now.